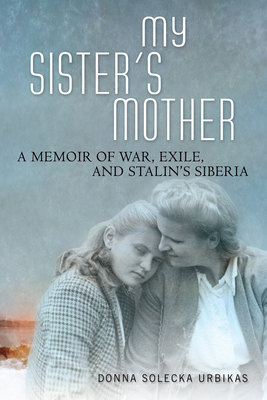 My Sister's Mother
A Memoir of War, Exile, and Stalin's Siberia
Hardcover

* Individual store prices may vary.
Other Editions of This Title:
Paperback (2/19/2019)
Description
Donna Solecka Urbikas grew up in the Midwest during the golden years of the American century. But her Polish-born mother and half sister had endured dehumanizing conditions during World War II, as slave laborers in Siberia. War and exile created a profound bond between mother and older daughter, one that Donna would struggle to find with either of them.
            In 1940, Janina Ślarzynska and her five-year-old daughter Mira were taken by Soviet secret police (NKVD) from their small family farm in eastern Poland and sent to Siberia with hundreds of thousands of others. So began their odyssey of hunger, disease, cunning survival, desperate escape across a continent, and new love amidst terrible circumstances.
            But in the 1950s, baby boomer Donna yearns for a "normal" American family while Janina and Mira are haunted by the past. In this unforgettable memoir, Donna recounts her family history and her own survivor's story, finally understanding the damaged mother who had saved her sister.

Finalist, Best Traditional Non-Fiction Book, Chicago Writers Association
Praise For My Sister's Mother: A Memoir of War, Exile, and Stalin's Siberia…
"This stunning, heartfelt memoir looks unflinchingly at the scars borne by one Polish immigrant family as their daughter tries to become a normal American girl in Chicago. A gripping study of family dynamics, this is also a must-read for World War II history buffs."—Leonard Kniffel, author of A Polish Son in the Motherland

"Superbly records the bitter suffering both of victims of the Soviet Gulag and of displaced emigrants. And, we witness the enormous problems of traumatized parents in connecting and sharing their experiences with their American-raised children. In this context, Donna's teenage 'tragedy' of failing to make the cheerleading squad is particularly poignant."—Marek Jan Chodakiewicz, author of Between Nazis and Soviets

"A primer for all who seek to understand the harrowing journey of Poles during this fateful period."—Allen Paul, author of Katyń: Stalin's Massacre and the Triumph of Truth
University of Wisconsin Press, 9780299308506, 312pp.
Publication Date: April 27, 2016
About the Author
Donna Solecka Urbikas was born in Coventry, England, and immigrated with her parents and sister to Chicago in 1952. After careers as a high school science teacher and environmental engineer, she is now a writer, realtor, and community volunteer. She lives in Chicago with her husband.