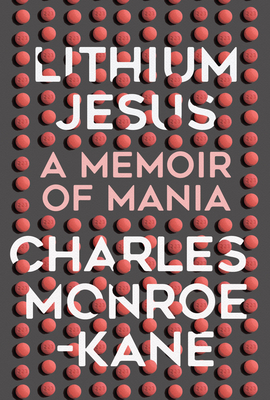 Lithium Jesus (Hardcover)
A Memoir of Mania
University of Wisconsin Press, 9780299310004, 152pp.
Publication Date: September 13, 2016
Other Editions of This Title:
MP3 CD (11/29/2016)
* Individual store prices may vary.
Description
Charles Monroe-Kane is a natural raconteur, and boy, does he have stories to tell. Born into an eccentric Ohio clan of modern hunter-gatherers, he grew up hearing voices in his head. Over a dizzying two decades, he was many things—teenage faith healer, world traveler, smuggler, liberation theologian, ladder-maker, squatter, halibut hanger, grifter, environmental warrior, and circus manager—all the while wrestling with schizophrenia and self-medication.
            From Baby Doc's Haiti to the Czech Velvet Revolution, and from sex, drugs, and a stabbing to public humiliation by the leader of the free world, Monroe-Kane burns through his twenties and several bridges of youthful idealism before finally saying: enough.
            In a memoir that blends engaging charm with unflinching frankness, Monroe-Kane gives his testimony of mental illness, drug abuse, faith, and love. By the end of Lithium Jesus there may be a voice in your head, too, saying "Do more, be more, live more. And fear less."
About the Author
Charles Monroe-Kane has won a Peabody Award for his work as a senior producer and interviewer for the program To the Best of Our Knowledge, broadcast on 220 public radio stations. He has reported for National Public Radio's Morning Edition and All Things Considered.
Praise For Lithium Jesus: A Memoir of Mania…
"For all the voices that once raged through his head, Charles Monroe-Kane has finally found the true one: his own. With plainspoken honesty, he takes us through his raucous mission to devour a world before it devoured him, arriving finally at the hard truth of salvation."—David Giffels, author of The Hard Way on Purpose
"This humble, funny, raw (yes, sex) book is a pell-mell kaleidoscope of faith, drugs, bawdy behavior, and mental illness that resolves not in soft focus or shattered glass but in the sweet important idea that there are many ways to be born again."—Michael Perry, author of The Jesus Cow
"The mind of Charles Monroe-Kane crackles with a scary, exhilarating, manic, and beautiful energy. His book left my mouth agape. His story bobs and weaves, lulls readers into the right jab—then clocks us with a roundhouse. Charles lives his story like no other, and he tells it like nobody else can."—Glynn Washington, host of public radio program Snap Judgment
"A young man grapples with bipolar 'voices' via religion, hedonism, activism, and Lithium. In his debut, Monroe-Kane, a Peabody Award–winning public radio producer, brings a fresh perspective to familiar memoir territory. . . . [A] compelling account of wrestling with inner turmoil against gritty, dramatic international settings."—Kirkus Reviews
"The personal story [Monroe-Kane] tells in Lithium Jesus: A Memoir of Mania about marriage, fatherhood and the stunning events that came before, is one you will not soon forget."—Bay Area Reporter
"Charles Monroe-Kane has had a more interesting life than anybody you are ever likely to know. . . . An exceptional memoir."—Books & Beats Show