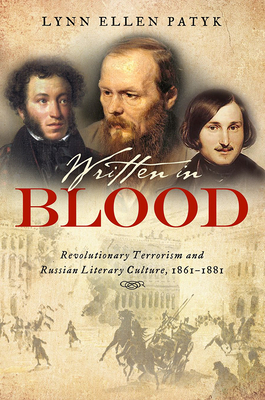 Written in Blood
Revolutionary Terrorism and Russian Literary Culture, 1861–1881
Hardcover

* Individual store prices may vary.
Other Editions of This Title:
Paperback (1/7/2020)
Description
Written in Blood offers a fundamentally new interpretation of the emergence of modern terrorism, arguing that it formed in the Russian literary imagination well before any shot was fired or bomb exploded. In March 1881, Russia stunned the world when a small band of revolutionaries calling themselves "terrorists" assassinated the Tsar-Liberator, Alexander II. Horrified Russians blamed the influence of European political and social ideas, while shocked Europeans perceived something new and distinctly Russian in a strategy of political violence that became known the world over as "terrorism" or "the Russian method."

Lynn Ellen Patyk contends that the prototype for the terrorist was the Russian writer, whose seditious word was interpreted as an audacious deed—and a violent assault on autocratic authority. The interplay and interchangeability of word and deed, Patyk argues, laid the semiotic groundwork for the symbolic act of violence at the center of revolutionary terrorism. While demonstrating how literary culture fostered the ethos, pathos, and image of the revolutionary terrorist and terrorism, she spotlights Fyodor Dostoevsky and his "terrorism trilogy"—Crime and Punishment (1866), Demons (1870–73), and The Brothers Karamazov (1878–80)—as novels that uniquely illuminate terrorism's methods and trajectory. Deftly combining riveting historical narrative with penetrating literary analysis of major and minor works, Patyk's groundbreaking book reveals the power of the word to spawn deeds and the power of literature to usher new realities into the world.
Praise For Written in Blood: Revolutionary Terrorism and Russian Literary Culture, 1861–1881…
"A superb model of interdisciplinary scholarship: highly original, subtle, thought-provoking, and a pleasure to read. Analyzing both word and deed, Patyk rewrites the history of modern terrorism showing why the Russian case was pivotal. A gripping story." —Susan Morrissey, author of Suicide and the Body Politic in Imperial Russia

"A wonderful book, full of original insights on the intersection between Russian literature and the birth of modern terrorism. Challenging usual ways of thinking, Written in Blood is sure to become a classic in Russian cultural studies, to be read and appreciated by scholars, students, and general readers alike." —Anthony Anemone, editor of Just Assassins: The Culture of Terrorism in Russia
University of Wisconsin Press, 9780299312206, 368pp.
Publication Date: June 20, 2017
About the Author
Lynn Ellen Patyk is an assistant professor of Russian at Dartmouth College.
or
Not Currently Available for Direct Purchase