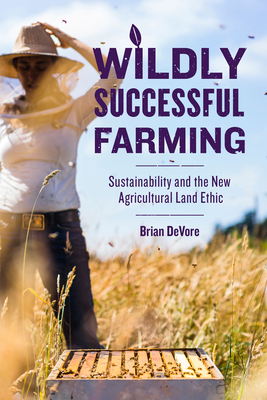 Wildly Successful Farming (Hardcover)
Sustainability and the New Agricultural Land Ethic
University of Wisconsin Press, 9780299318802, 224pp.
Publication Date: October 9, 2018
* Individual store prices may vary.
Description
Wildly Successful Farming tells the stories of farmers across the American Midwest who are balancing profitability and food production with environmental sustainability and a passion for all things wild. They are using innovative techniques and strategies to develop their "wildly" successful farms as working ecosystems. Whether producing grain, vegetables, fruit, meat, or milk, these next-generation agrarians look beyond the bottom line of the spreadsheet to the biological activity on the land as key measures of success.

Written by agricultural journalist Brian DeVore, the book is based on interviews he has conducted at farms, wildlife refuges, laboratories, test plots, and gardens over the past twenty-five years. He documents innovations in cover cropping, managed rotational grazing, perennial polyculture, and integrated pest management. His accounts provide insight into the impacts regenerative farming methods can have on wildlife, water, landscape, soils, and rural communities and suggest ways all of us can support wildly successful farmers.
About the Author
Brian DeVore is a contributor to farm and conservation magazines and an editor with the Land Stewardship Project in Minneapolis, Minnesota. He grew up on a crop and livestock farm in southwestern Iowa and, while serving in the Peace Corps, managed a dairy cooperative in Lesotho, Africa.
Praise For Wildly Successful Farming: Sustainability and the New Agricultural Land Ethic…
"We don't have to choose between healthy land and productive land—we can have both. DeVore's careful chronicling of Midwest farmers who practice an agriculture that respects and supports nature will give you hope for the future." —Kristin Ohlson, author of The Soil Will Save Us
"Meet optimistic realists—farmers, conservationists, and scientists—blurring occupational boundaries to reveal a world in which agriculture and ecology are productively intertwined. These are outliers in a sea of corn and soybeans (and resultant depauperate ecosystems), but their stories, told often enough, can change all of that." —Karen Oberhauser, director, University of Wisconsin–Madison Arboretum
"Most Americans have forgotten that the success of agriculture depends on the wild world it so often displaces. These farmers remind us that those two vital elements need not be mutually exclusive—indeed, the success of food production depends on a healthy natural world." —Lisa M. Hamilton, author of Deeply Rooted