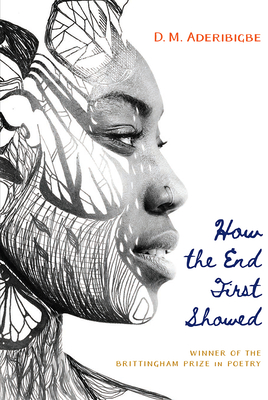 How the End First Showed (Wisconsin Poetry Series) (Paperback)
University of Wisconsin Press, 9780299319847, 104pp.
Publication Date: November 27, 2018
* Individual store prices may vary.
Description
Crafting raw memories into restrained and compact verse, D. M. Aderibigbe traces the history of domestic and emotional abuse against women in his family. A witnessing son, grandson, nephew, and brother, he rejects the tradition of praise songs for the honored father, refusing to offer tribute to men who dishonor their wives.

Widening his gaze to capture the moral rhythms of life in Lagos, he embraces themes of love, spirituality, poverty, compassion, sickness, and death. Aderibigbe offers both an extended elegy for his mother and poems addressed to children of the African continent, poems that speak to the past that has made them.

We salivated; slices of yam softened.

We chewed our teeth; slices of yam perished.

Mother smiled. Father arrived,

filled the room with curses;

his voice beat in our hearts,

as thunder on the walls of a building.

His empty stomach was a bowl of anger.

In a room built with our silence,

father was hitting mother.

—excerpt from "Hungry Man" D. M. Aderibigbe. All rights reserved.
About the Author
D. M. Aderibigbe is a PhD student at Florida State University. He is the author of a chapbook, In Praise of Our Absent Father, selected for the New Generation African Poets Series of the African Poetry Book Fund. Born and raised in Nigeria, he earned his MFA in poetry from Boston University. His poems have appeared in the African American Review, The Nation, Ninth Letter, Poetry Review, Prairie Schooner, Rattle, and elsewhere.
Praise For How the End First Showed (Wisconsin Poetry Series)…
"In the urgent, abrupt, incantational poems of D. M. Aderibigbe, an essential gesture is simile: the explicit, striving word 'like' recurs often. And in every poem Aderibigbe thinks in metaphor. In a world of difference, amid unique strokes of memory and abandonment, violence and love, that action of likeness attains spiritual force." —Robert Pinsky
"A debut that electrifies and ignites beacons of much-needed understanding through even the darkest of days. These memorable poems twist and tumble across entire countries, while making maps of love and heartbreak. A brilliant beginning. Remember this name: Aderibigbe." —Aimee Nezhukumatathil, contest judge