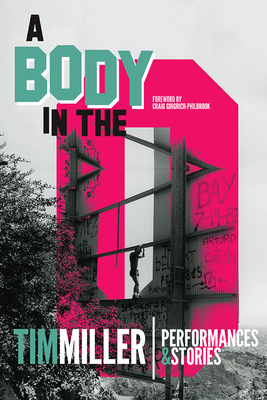 A Body in the O (Hardcover)
Performances and Stories
University of Wisconsin Press, 9780299322601, 152pp.
Publication Date: April 23, 2019
* Individual store prices may vary.
Description
From London to DC to Australia to Los Angeles, Tim Miller has sold out shows in which he addresses issues of gender, immigration, homophobia, and censorship. As one of the "NEA Four," who successfully sued the federal government for violating their First Amendment rights when their funding was rescinded in the early 1990s, Miller has always played an important role in defending queer artistic expression on stage. His autobiographical explorations into identity, politics, and art through the lens of his own experiences lead to visceral, humorous, and poignant performances. His activism and experiences inform his newest collection of performance scripts and writings, which represent the culmination of the many struggles for rights and equality that Miller has documented, and performed, over the course of his career. A Body in the O is an important addition to Miller's existing body of work, picking up from his show Lay of the Land and moving into his more recent piece, Rooted.
About the Author
Tim Miller is an internationally acclaimed performance artist and gay rights activist. He has performed in such venues as the Yale Repertory Theatre, the Institute of Contemporary Art in London, the Walker Art Center in Minneapolis, and the Brooklyn Academy of Music. He is the author of Shirts & Skin, Body Blows: Six Performances, and 1001 Beds: Performances, Essays, and Travels.
Praise For A Body in the O: Performances and Stories…
"Tim continues the unabashed and purposeful sex-positive, embodied conversational style that remains a lifeline by appropriately demystifying queer experience, protest, and encounters with power. . . . His memoir-driven work does more than attempt a realist account of the events he speaks to; it also includes surreal, dream-inspired evocations of fear and possibility."—from the foreword by Craig Gingrich-Philbrook, Southern Illinois University
"For an entire generation of queer artists working in the experimental theater world—including me—Tim led the way. His imagination, daring and vision continue to inspire us."—Moisés Kaufman, playwright, director, and artistic director of Tectonic Theater Project
or
Not Currently Available for Direct Purchase