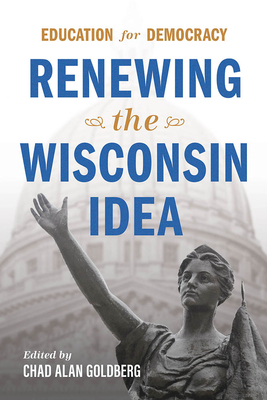 Education for Democracy
Renewing the Wisconsin Idea
Hardcover

* Individual store prices may vary.
Description
American public universities were founded in a civic tradition that differentiated them from their European predecessors—steering away from the pursuit of knowledge for its own sake. Like many such higher education institutions across the United States, the University of Wisconsin's mission, known as the Wisconsin Idea, emphasizes a responsibility to serve the needs of the state and its people. This commitment, which necessarily requires a pledge to academic freedom, has recently been openly threatened by state and federal actors seeking to dismantle a democratic and expansive conception of public service.

Using the Wisconsin Idea as a lens, Education for Democracy argues that public higher education institutions remain a bastion of collaborative problem solving. Examinations of partnerships between the state university and people of the state highlight many crucial and lasting contributions to issues of broad public concern such as conservation, LGBTQ+ rights, and poverty alleviation. The contributors restore the value of state universities and humanities education as a public good, contending that they deserve renewed and robust support.
Praise For Education for Democracy: Renewing the Wisconsin Idea…
"Goldberg situates the Wisconsin Idea in its historical, educational, institutional, and political context in ways that enlighten its original impulses, illuminating its significant contributions to rural and urban areas and to the very nature of the University of Wisconsin as a university of the people."—Michael Apple, University of Wisconsin–Madison

"An important look back at the progressive Wisconsin Idea and a look forward to its possible renewal. The authors take us through numerous ideas and practices that came to be known as the Wisconsin Idea and chart out a civic vision of higher education that is badly in need of being reinvented today."—Kevin Mattson, Ohio University
University of Wisconsin Press, 9780299328900, 320pp.
Publication Date: November 17, 2020
About the Author
Chad Alan Goldberg is a professor of sociology at the University of Wisconsin–Madison. He is the author of Citizens and Paupers: Relief, Rights, and Race from the Freedmen's Bureau to Workfare and Modernity and the Jews in Western Social Thought.