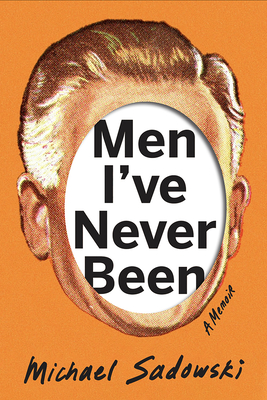 Men I've Never Been (Living Out
Gay and Lesbian Autobiog)
Hardcover

* Individual store prices may vary.
Description
Men I've Never Been recounts Michael Sadowski's odyssey as a boy who shuns his own identity—and, ultimately, his sexual orientation—in order to become who he thinks he's supposed to be. Beginning with the memory of a four-year-old sitting in a dingy dive bar, sounding out newspaper headlines while his boasting father collects drinks from onlookers, each chapter highlights a different image of manhood that Sadowski saw at home, at school, or on television—from sports heroes, hunters, and game show hosts to his charismatic but hard-drinking father. As he learns not to talk, laugh, cry, or love, he retreats further behind a stoic mask of silence—outwardly well-functioning but emotionally isolated, sinking under the weight of the past.
 
Through wrenching tragedy and tense, life-threatening challenges, Sadowski learns to find love, purpose, and healthy self-regard. In coming to understand his identity and his place within his family, he meditates on the power of real human connection and comes to grasp the damage of his troubled upbringing and the traumas caused by toxic masculinity. By turns comic and tragic, this nuanced memoir uncovers the false selves we create to get along in the world and the price we pay to maintain them.
Praise For Men I've Never Been (Living Out: Gay and Lesbian Autobiog)…
"A powerful, beautiful sock in the stomach of a memoir. It's filled with living, breathing, three-dimensional people, settings that are so vivid they have a cinematic quality, refrains and reprises that give the whole story a musical coherence. The ending will leave readers in a state of—I don't know what—grief? joy? wonder? hope? All of those and more. I can imagine this book changing lives."—Domenica Ruta, author of the memoir With or Without You

"A compelling and exceedingly well-written memoir that is, at times, as heart-wrenching and hilarious as any book I've read in a very long time. Sadowski is a craftsman; there's so much earned empathy and experience in here that it's hard to overstate."—Jared Yates Sexton, author of The Man They Wanted Me to Be

"A thoroughly enjoyable and relatable story of never feeling like you fit in, like you're failing to be the person society demands you to be. Expect to be surprised at how frequently Sadowski captures a feeling or moment you experienced but never put words to."—Jim Obergefell, lead plaintiff in Obergefell v. Hodges and coauthor of Love Wins 

"Sadowski's memoir offers something timely and new. His deep understanding of human development as essentially relational is groundbreaking. Men I've Never Been is a lovely read: gracefully written, resonant and poignant, filled with emotionally wrought stories that will stay with me for a long time."—Michael Reichert, author of How to Raise a Boy: The Power of Connection to Build Good Men

"Exceptionally well written, impressive candid, remarkably detailed and engaging, Men I've
Never Been: A Memoir is an inherently interesting and unreservedly recommended addition to
community, college and university library Contemporary American Biography collections in general, and
LGBTQ supplemental studies curriculums in particular."—Midwest Book Review

"Men I've Never Been is rarely proud or boastful; it hides Sadowski's successes in between his constant feelings of incompetence, grounding itself in the realities of the everyday... Michael Sadowski's memoir is warm and welcoming—a comfort in a world that is often neither."—Foreword Reviews
University of Wisconsin Press, 9780299330903, 232pp.
Publication Date: April 27, 2021
About the Author
Michael Sadowski is an award-winning writer and author of several books, including In a Queer Voice, Safe Is Not Enough, and Adolescents at School. He is an administrator and professor at Bard College.