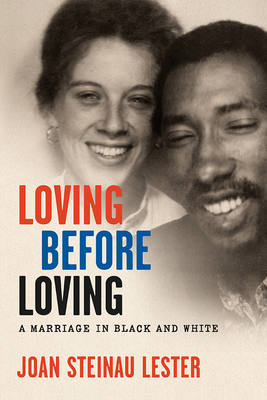 Loving before Loving
A Marriage in Black and White
Hardcover

* Individual store prices may vary.
Description
Committed to the struggle for civil rights, in the late 1950s Joan Steinau marched and protested as a white ally and young woman coming to terms with her own racism. She fell in love and married a fellow activist, the Black writer Julius Lester, establishing a partnership that was long and multifaceted but not free of the politics of race and gender. As the women's movement dawned, feminism helped Lester find her voice, her pansexuality, and the courage to be herself.
 
Braiding intellectual, personal, and political history, Lester tells the story of a writer and activist fighting for love and justice before, during, and after the Supreme Court's 1967 decision striking down bans on interracial marriage in Loving v. Virginia. She describes her own shifts in consciousness, from an activist climbing police barricades by day and reading and writing late into the night to a woman navigating the coming-out process in midlife, before finding the publishing success she had dreamed of. Speaking candidly about every facet of her life, Lester illuminates her journey to fulfillment and healing.
Praise For Loving before Loving: A Marriage in Black and White…
"This intimate, brave memoir is also one that many women will recognize as their own: a lifetime spent trying to heal others and the world, only to discover one must start with oneself."—Robin Morgan, editor of Sisterhood Is Powerful

"This book is the real deal, the way it was. A good book for folks to grow on. I love it! Bravo!"—Alice Walker, Pulitzer Prize–winning author of The Color Purple

"Exceptional. It is a real challenge to write a memoir that is intellectually deep, psychologically
sophisticated, and politically principled that is also engaging, accessible, funny, and tender. Loving before Loving certainly is all that. What a remarkable ride." —Becky Thompson, author of A Promise and a Way of Life

"Vividly written and profoundly moving, Joan Lester's journey—as wife, mother, activist—is politically insightful and prescient. Since her vigorous and heartfelt observations and analyses are generative and healing, this memoir is needed now when our racial conflicts, always profound, continue to intensify."—Blanche Wiesen Cook, author of Eleanor Roosevelt
University of Wisconsin Press, 9780299331009, 288pp.
Publication Date: May 25, 2021
About the Author
Joan Steinau Lester is an award-winning commentator, columnist, and author of critically acclaimed books, including Mama's Child and Black, White, Other. Her writing has appeared in such publications as USA Today, Los Angeles Times, San Francisco Chronicle, Chicago Tribune, Cosmopolitan, and Huffington Post.