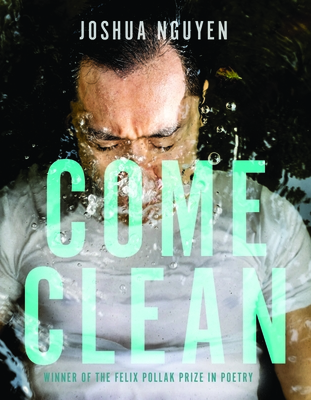 Come Clean (Wisconsin Poetry Series)
Paperback

* Individual store prices may vary.
Description
Joshua Nguyen's sharp, songlike, and often experimental collection compartmentalizes past trauma—sexual and generational—through the quotidian. Poems aim to confront the speaker's past by physically, and mentally, cleaning up. Here, the Asian-American masculine interrogates the domestic space through the sensual and finds healing through family and in everyday rhythms: rinsing rice until the water runs clear, folding clean shirts, and attempts at re-creating an unwritten family recipe. Yet past wounds remain present like permanent marker under layers of paint or spilled fish sauce set into car upholstery. Infused with the Shinto-inspired organizing practices of KonMari and the catchy nihilism of Mitski's songs, the poems in Come Clean unpack, organize, and tidy up life's messy joys and hurtful chaos with intimacy, grace, and vulnerability.
No matter how smattered my insides,   I am relieved that I left my room tidy—
One less ugly sight.
 
I always wanted to die clean & pretty
while my dreams made music in the night.—Excerpt from "Last Words"
Praise For Come Clean (Wisconsin Poetry Series)…
"I am so deeply moved by the subdued lyric force of this collection, if only subdued could capture the elegant control Nguyen exerts on his line. Sensuously constructed, in Come Clean he looks at the vast landscape of history through the desire for Marie Kondo's order and a cure for imposter's syndrome, in a book that's as current as it is timeless."—Carmen Giménez Smith

"An unflinching look at how one tries to make order and sense of the messy dazzlement of life. The word ardent is from ardere—which means to burn—and that is precisely what I mean when I say I ardently admire this book, for it showcases an absurdly imaginative ear and heart. Nguyen is one of the strongest poetic debuts you'll come across this decade."—Aimee Nezhukumatathil
 

"Nguyen writes with equal parts inventiveness and honesty, opening possibilities for wonder within even the most painful of inheritances. Witty, deeply caring, and unafraid of mess, he is an exciting and necessary voice for the future of Asian American poetry."—Franny Choi
University of Wisconsin Press, 9780299336042, 96pp.
Publication Date: October 5, 2021
About the Author
Joshua Nguyen is a Vietnamese American writer, a collegiate national poetry slam champion (CUPSI), and a native Houstonian. He is the author of the chapbook American Lục Bát for My Mother. He is a PhD student at the University of Mississippi, where he also received his MFA.