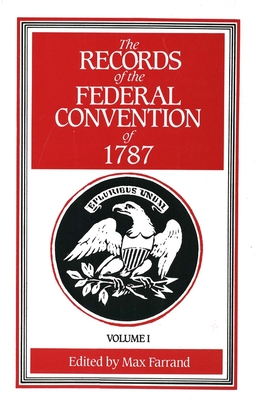 The Records of the Federal Convention of 1787
1937 Revised Edition in Four Volumes, Volume 1
Paperback

* Individual store prices may vary.
Other Editions of This Title:
Hardcover (10/16/2015)
Paperback (10/20/2018)
Paperback (10/9/2018)
Hardcover (10/9/2018)
Hardcover (10/21/2018)
Paperback (10/9/2018)
Hardcover (10/9/2018)
Paperback (2/8/2015)
Hardcover (10/20/2018)
Paperback (2/8/2015)
Hardcover (8/8/2015)
Hardcover (10/17/2015)
Hardcover (10/17/2015)
Paperback (9/10/1967)
Paperback (9/10/1967)
Description
The Federal Convention of 1787 engaged in the great and complex labor of framing the constitution for the union of the states. For thirty years afterwards, little was known of its deliberations, and nothing official was published. The variety of versions which began to appear thereafter tended to confuse rather than clarify the situation. When Mr. Farrand undertook the voluminous task of gathering into a single unit all available records which had been written or published by the Convention participants, he found that accuracy became the most important and the most difficult aspect of his task. Yet the accuracy he achieved has proved to be the most significant feature of his undertaking. The thoroughness of his research has made The Records of the Federal Convention of 1787 the one most authoritative source for students of constitutional law as well as lawyers and legislators who seek to understand the spirit of the Constitution in their interpretations of its provisions.
The documents are reprinted exactly from the originals and presented in chronological sequence. Throughout Mr. Farrand discriminated carefully between statements of proceedings in the Convention and theoretical interpretations of clauses in the constitution, including only the former in his work. His footnotes provide cross references to the most important subjects and his general index is as exhaustive as possible. He also includes a special index, giving references for every clause in the adopted Constitution to enable the reader to trace the origin and development of any particular clause and to find every item within the Records that bears upon it. Originally published in 1911 in three volumes, the Revised Edition, published in 1937, incorporated in a fourth supplementary volume new material which came to light after the first printing. The Yale University Press is now pleased to announce the publication of the four-volume Revised Edition in paper-bound format.
"Will now be the standard authority on the work of Constitutional convention of 1787."—New York Times
"Historians and constitutional lawyers have long desired to see all the records that exist of the formation of the Federal constitution, gathered into a record which shall be at once correct, critical, and comprehensive. Their wish is now gratified."—The Nation
Yale University Press, 9780300000801, 638pp.
Publication Date: September 10, 1966
or
Not Currently Available for Direct Purchase