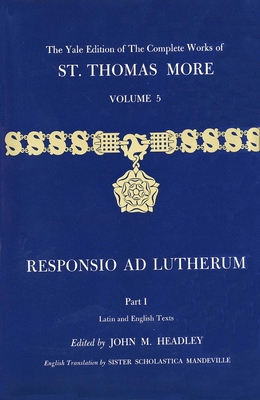 The Yale Edition of The Complete Works of St. Thomas More (Hardcover)
Volume 5, Responsio ad Lutherum
Yale University Press, 9780300011234, 1058pp.
Publication Date: September 10, 1969
Other Editions of This Title:
Hardcover (9/10/1981)
Hardcover (7/21/1997)
Hardcover (9/10/1988)
Hardcover (11/28/1990)
Hardcover (9/10/1976)
Hardcover (3/11/1984)
Hardcover (10/11/1976)
Hardcover (9/10/1963)
Hardcover (3/11/1965)
Hardcover (9/10/1979)
Hardcover (9/10/1985)
Hardcover (9/10/1973)
* Individual store prices may vary.
Description
The Responsio ad Lutherum, written by Thomas More under the pseudonym of Guillielmus Rosseus, represents an important phase of the violent controversy that developed between Luther and Henry VII after the publication in 1521 of the King's Assertio Septem Sacrementorum. Here, for the first time, More entered the field of polemical, religious warfare, beginning a career as Catholic apologist which he was to continue in his English works during the next ten years, The present edition is based on the 1523 Rosseus text, with full collations from the earlier, and unique, Baravellus issue and from the 1565 Louvain printing. For the first time, More's racy diatribe is fully translated into English, with the Latin and English texts printed in parallel.
The editor's Introduction traces the background of the controversy and analyzes at length More's important revisions in his text as he worked out his view of the papal primacy. The Commentary traces the nature of the conflict between More and Luther, emphasizing the shades of development in Luther's though. Historical, biblical, and patristic allusions in the text are explicated and analyzed. The Responsio should no longer, in view of this volume, occupy the position which it has held for so long—the most neglected of all More's major works.
Mr. Headley is associate professor of history at the University of North Carolina. The translator, Sister Scholastica Mandeville of the Order of Sisters Adorers of the Most Precious Blood, teaches at the Provincial Motherhouse, Ruma, Illinois.
or
Not Currently Available for Direct Purchase