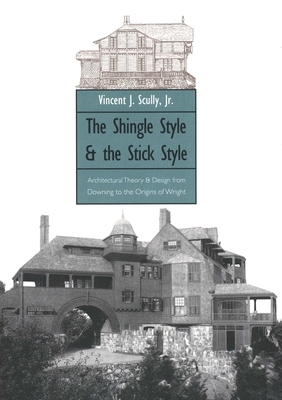 The Shingle Style and the Stick Style
Architectural Theory and Design from Downing to the Origins of Wright; Revised Edition (Yale Publications in the History of Art)
Paperback

* Individual store prices may vary.
Description
As the definitive study of the complex inspirations and cultural influences that were fused in the Shingle Style of wooden suburban and resort buildings of the period 1872 to 1889, Mr. Scully's book has received much critical acclaim. He presents the published designs and the written statements of the architects, as well as contemporary criticisms of the buildings to analyze the development of the Shingle Style from Richardson's early work to Wright's first house in Oak Park. An analysis of the Colonial Revival is central to the work, which is now enhanced by the addition of an extensive related chapter on the "Stick Style" of the mid-century. A new preface has been added and the bibliography and footnotes are brought up to date.
"The last section of the book, on the origins and early development of Frank Lloyd Wright, is one of Scully's best. This chapter…shows a mature understanding and a just handling of the academic tradition and of the early work of one of America's greatest architects."—The Art Bulletin
"Scully's research is exhaustive, his scholarship impeccable. His illustrations alone form a gold mine of information on the period."—Journal of the Society of Architectural Historians
Yale University Press, 9780300015195, 184pp.
Publication Date: September 10, 1971