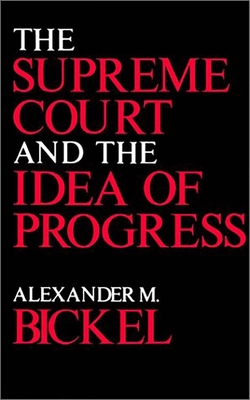 The Supreme Court and the Idea of Progress
Paperback

* Individual store prices may vary.
Description
Timeless questions about the role of the Supreme Court in the American political and legal system are raised in the late Alexander Bickel's characteristically astute analysis of the work of the Warren Court. He takes issue with the Court's view that its role should be to move the American polity in the direction of perfect equality and expresses his preference for "a more faithful adherence to the method of analytical reason, and a less confident reliance on the intuitive capacity to identify the course of progress."

First published in 1970, this book made news with its prediction that the Court's best-known decision, in Brown v. Board of Education, might be headed for "irrelevance." Bickel charged the Court, particularly in its segregation and reapportionment cases, with being irrational, inconsistent, and even incoherent and argued that its decisions would lead to unwise centralization of government. He explored the limitations on the role of the court in stimulating social progress and concluded that the Warren Court had intervened in matters of social policy where the political process, not judicial action, should apply.

"Process is what especially concerned him – the relationship between the legal and the political process in a country where the two are uniquely intermixed. If he criticized something done by the courts for the stated purpose of speeding school desegregation, that did not mean that he favored state-imposed racial discrimination; in fact he abhorred it. He was concerned, rather, about trying to solve complicated problems by legal formulas instead of leaving them to the give-and-take of the political process."
-- Anthony Lewis
Yale University Press, 9780300022391, 224pp.
Publication Date: April 1, 1978