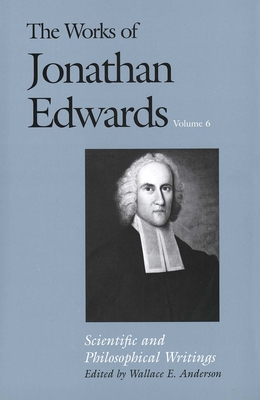 The Works of Jonathan Edwards, Vol. 6 (Hardcover)
Volume 6: Scientific and Philosophical Writings (The Works of Jonathan Edwards Series)
Yale University Press, 9780300022827, 442pp.
Publication Date: September 10, 1980
Other Editions of This Title:
Paperback (8/25/2009)
Hardcover (10/13/1993)
Hardcover (6/22/1994)
Hardcover (12/28/1994)
Hardcover (7/11/2000)
Hardcover (4/10/2003)
Hardcover (2/17/1998)
Hardcover (9/10/1977)
Hardcover (10/2/2006)
Hardcover (10/2/2006)
Hardcover (9/10/1989)
Hardcover (12/11/2002)
Hardcover (7/11/2001)
Hardcover (12/23/1992)
Hardcover (4/20/1998)
Hardcover (9/10/1972)
Hardcover (7/11/2002)
Hardcover (9/10/1970)
Hardcover (9/10/1959)
* Individual store prices may vary.
Description
This volume contains two major manuscript notebooks of Jonathan Edwards—"Natural Philosophy" and "The Mind"—as well as a number of shorter manuscript writings connected with his scientific interests and philosophical development. Several of the shorter papers have not previously been published, notably Edwards' letter on the "flying" spider (hither known only in a draft version), an essay on light rays, and a brief but important set of philosophical notes written near the end of his life. Wherever possible the works have been newly transcribed from manuscript originals. Wallace Anderson has collected, edited, and presented them here in a thoroughly authentic and readable text.
Each of the major works in this volume and each group of related writings are preceded by detailed discussion of manuscript sources and dates. In his introduction Anderson makes these the basis for a revised account of the chronology of Edwards' early writings and a deeper investigation of their biographical and historical context. Also included in the introduction are a new appraisal of Edwards' efforts and achievements in science and an analysis of the developmental of his philosophical views. Anderson concludes from his research that Edwards was an enthusiastic, though untrained, investigator in the Newtonian tradition and that he grappled with the major metaphysical problems raised by this tradition. The papers reveal with special clarity the fertile and inquiring mind of our leading eighteenth-century philosopher-theologian.
Wallace E. Anderson is associate professor of philosophy at Ohio State University.

or
Not Currently Available for Direct Purchase