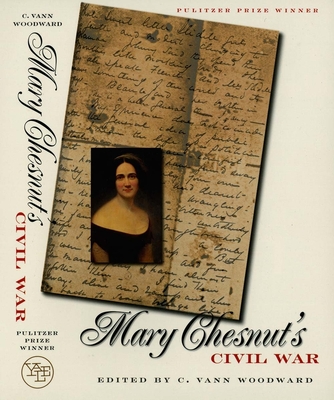 Mary Chesnut's Civil War
Paperback

* Individual store prices may vary.
Description
Winner of the 1982 Pulitzer Prize in History

"A feast for Civil War buffs. . . . One of the best firsthand records of the Confederate experience. . . . Electrifying."—Walter Clemons, Newsweek

"By all odds the best of all Civil War memoirs, and one of the most remarkable eyewitness accounts to emerge from that or any other war."—Louis D. Rubin, Jr., New Republic

The incomparable Civil War diarist Mary Chestnut wrote that she had the luck "always to stumble in on the real show." Married to a high-ranking member of the Confederate government, she was ideally placed to watch and to record the South's headlong plunge to ruin, and she left in her journals an unsurpassed account of the old regime's death throes, its moment of high drama in world history. With intelligence and passion she described the turbulent events of politics and war, as well as the complex society around her. In her own circles, the aristocratic, patriarchal, slave-holding Mary Chesnut was a figure of heresy and of paradox: she had a horror of slavery and called herself an abolitionist from early youth.

Edited by the eminent historian C. Vann Woodward, Mary Chesnut's Civil War presents a full and reliable edition of Chesnut's journals, restoring her to her rightful place in American history and literature.


 
Praise For Mary Chesnut's Civil War…
Winner of the 1982 Pulitzer Prize in History
"Vann Woodward's long awaited edition of Mary Chestnut's 'Diary' of the Civil War is the first uncorrupted and annotated text of a novelistic memoir, at one an illuminating historical document and a work of genuine literary distinction. Woodward's ingenious blending of the original journals and the subsequent 'Diary' makes this version immensely superior to the previous ones and enables us for the first time to appreciate the mind and art of this remarkable mind."—Daniel Aaron, Harvard University

Yale University Press, 9780300029796, 892pp.
Publication Date: September 10, 1993
About the Author
C. Vann Woodward is Sterling Professor Emeritus of History at Yale University.