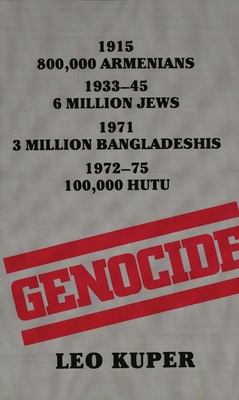 Genocide
Its Political Use in the Twentieth Century
Paperback

* Individual store prices may vary.
Description
"A useful study. . . with extensive historical detail. . . . Kuper blames the many genocidal massacres of recent years on the failure of the United Nations and the major powers to enforce the (Genocide) Convention, and he has little difficulty in showing the records to be shabby."—Telford Taylor, The New York Times Book Review
"Genocide represents the climax of a concern which Leo Kuper has pursued over many years and in many different books. If there were a peace prize for sociologists, it should be awarded to him."—Michael Banton, Times Literary Supplement
"Perceptive, original, and compelling study. . . Systematic, informative, and wide-ranging. . . . A profound meditation on genocide."—Roger W. Smith, Perspective
"In this well-written and well-researched comparative study, Kuper examines the massacre of the Armenians by the Turks during World War I, the Holocaust, and other related indifference displayed by the United Nations and the lack of universal public education about genocide."—Alvin R. Sunseri, Library Journal
"The definitive work on this subject."—Virginia Quarterly Review
Yale University Press, 9780300031201, 256pp.
Publication Date: September 10, 1983