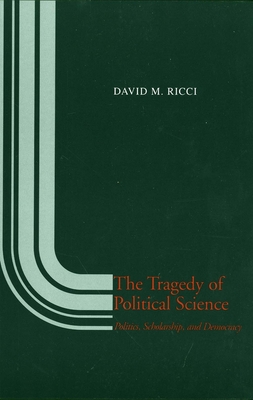 The Tragedy of Political Science (Paperback)
Politics, Scholarship, and Democracy
Yale University Press, 9780300037609, 338pp.
Publication Date: September 10, 1987
* Individual store prices may vary.
Description
A comprehensive review and thoughtful critique of the development of political science as an academic discipline in this century, Ricci's strong indictment of political science will be a source of lively controversy and discussion for years to come. 
"A provocative, rich and rewarding book that advances a thesis that will be hotly and widely debated by political scientists…Intelligent, lucid, scholarly, [and] well-argued."—Neal Riemer, American Political Science Review
"A first class critical examination of political science in American since its beginnings…a century ago.  It warrants thoughtful reading by both novices and established professors…A learned, incisive, and balanced work."—Dwight Waldo, Political Science Quarterly
"An informative and truly provocative work.  The Tragedy of Political Science is both a scholarly study of American political science as an academic discipline and a practical moral argument on behalf of its fundamental reordering…Ricci's book is an extremely interesting work.  Its clarity of style and attention to scholarly detail make it an unusually accessible work…Any member of the discipline would benefit from the overview which Ricci constructs.  His summaries of the various schools and traditions within American political science are truly impressive."—James L. Wiser, Perspective
"A valuable book."—David Morgan, Journal of American Studies
"After this work there's no need for another account of the pathos of political science in its American incarnation; it says all that's needed, says its tellingly, and thereby provides a basis for transcending it. A splendid book."—Henry S. Kariel