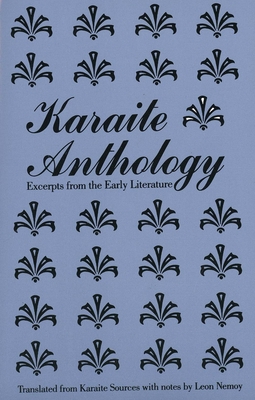 Karaite Anthology
Excerpts from the Early Literature (Yale Judaica Series)
Paperback

* Individual store prices may vary.
Description
The Karaites, a small Jewish sect that arose twelve centuries ago and still exists today, was at one time the most outspoken and productive schismatic division in Judaism. The Karaites contributed much to the Jewish literature of the Middle Ages, for they developed their own corpus of theological dogmas, liturgy, juristic exegesis, metaphysical concepts, secular poetry, apologetics, and sermons. This anthology—the first of its kind in any language of the West—provides excerpts from the early Karaite literature (down to about the year 1500) representing the full range of their thought and belief. All extracts have been translated directly from Arabic, Aramaic, and Hebrew original sources.
"This book marks the first attempt in any language to present a chronological exposition of seven centuries of evolution of this interesting Jewish sect through a selection of excerpts from the writings of its spokesmen. . . . [A] pioneering achievement."—Zvi Ankori, Jewish Social Studies
"Will be of real interest. . . to historians of religion, sociologists of religion, students of Judaism, Talmudic scholars, students of comparative religious law, and scholars interested in the relation between Islam and Judaism in the Middle Ages."—Maurice S. Friedman, The Journal of Religion
"The book is an important addition to Qaraite literature in English."—Isis
"The texts are wisely chosen, carefully edited, and supplied with copious notes. An excellent introduction to each writer is given. The book is successful from every point of view."—Edward Robertson, The Royal Asiatic Society
"The commentaries of [the] scholars. . . are important additions to Jewish scholarly research."—Jewish News
Yale University Press, 9780300039290, 438pp.
Publication Date: September 10, 1987