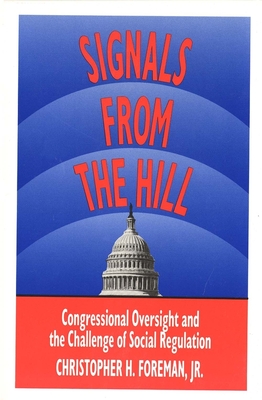 Signals from the Hill (Hardcover)
Congressional Oversight and the Challenge of Social Regulation
Yale University Press, 9780300044102, 224pp.
Publication Date: September 10, 1989
* Individual store prices may vary.
Description
Does Congress do a good job of overseeing the work of the important legislative agencies—the EPA, FDA, OSHA, and others—that it has established to protect the public from some of the risks of modern technology? Combining analysis and anecdote, Christopher H. Foreman, Jr. looks into the oversight tools available to Congress, the variety of interest groups involved, the kinds of issues that arise between agencies and congressional committees, and the personal networks that affect relations between them; and he suggests what Congress can and should do to improve the process of social regulation.
"Foreman adds substantially to our understanding of the role played by oversight. . . . A solid contribution toward understanding the nature of day-to-day congressional oversight."—Burdett Loomis, Journal of Politics
"[This book] is presented clearly, free from jargon, whether academic or governmental. . . . A solid discussion of oversight."—Jan P. Vermeer, Perspective
"This is a thoughtful, effectively organized, and well-written book. Those concerned with legislative oversight will find it highly useful."—Morris S. Ogul, University of Pittsburgh
Winner of the 1989 D. B. Hardeman Prize given by the Lyndon Baines Johnson Library for the best book on Congress in the twentieth century