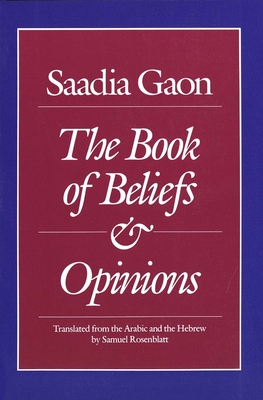 Saadia Gaon
The Book of Beliefs and Opinions (Yale Judaica Series)
Paperback

* Individual store prices may vary.
Description
Saadia Gaon, the great ninth century Jewish philosopher, was the father of both scientific biblical exegesis and Jewish philosophic theology. From his position as head of the great Talmudic academy in Sura, Babylonia, Saadia became the earliest grammarian and lexicographer of biblical Hebrew as well as the Arabic translator and commentator of the Hebrew Bible. Saadia's masterpiece, The Book of Beliefs and Opinions, was the first systemic attempt to present Judaism as a rational body of beliefs. This is the only unabridged translation into modern language of the entire text of Saadia's classic work.
Samuel Rosenblatt's distinguished translation adheres faithfully to the working of the original and at the same time makes the contents comprehensible to the general reader by cutting up long sentences and adjusting the syntax accordingly. The treatises have been divided into chapters, and as an additional guide an analytical table of contents has been provided. Also included is the first translation into a modern language of the variant of the seventh treatise.
"Saadia Gaon's Book of Beliefs and Opinions is the oldest surviving specimen of medieval Jewish philosophy. It remains also an outstanding specimen of Kalden interpretation of Judaism. Rosenblatt's translation is a masterly rendition."—Gerson Cohen, Jewish Theological Seminary
"This is the first translation into English of the complete text that influenced the development of systematic Jewish philosophical exposition of the teachings of Judaism. Rosenblatt, who was an excellent Judeo-Arabist and no less a fine Talmudist and rabbinics scholar, introduced the classic in its fullness to the English-speaking world and beyond."—Judah Goldin, University of Pennsylvania
"This complete English translation of Saadia's masterpiece has itself become a classic and belongs in every serious Judaica library." –Ivan G. Marcus, Jewish Theological Seminary
Samuel Rosenblatt was on the faculty at The John Hopkins University
Yale University Press, 9780300044904, 544pp.
Publication Date: September 10, 1989
or
Not Currently Available for Direct Purchase