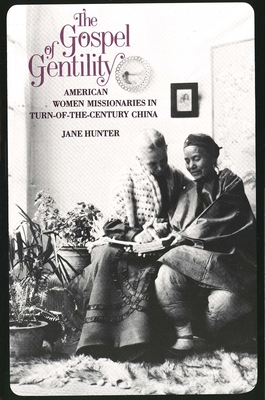 The Gospel of Gentility
American Women Missionaries in Turn-of-the-Century China
Paperback

* Individual store prices may vary.
Description
At the turn of the century, women represented over half of the American foreign mission force and had settled in "heathen" China to preach the lessons of Christian domesticity. In this engrossing narrative, Jane Hunter uses diaries, reminiscences, and letters to recreate the backgrounds of the missionaries and the problems and satisfactions they found in China. Her book offers insights not only into the experiences of these women but also into the ways they mirrored the female culture of Victorian America.
"A subtle and finely written book… [on] an aspect of the mission world in China that has never before received such probing, affectionate, detailed treatment."—Jonathan Spence, New York Review of Books
"An important and often entertaining work….New angles on imperialism and gentility alike."—Martin E. Marty, Reviews in American History
"A triumph of sophisticated subtle intelligence. Though quite cognizant of the dark side of the confluence of American nationalism and the missionary enterprise, Hunter's interest is in moving beyond that understanding to explore how the meeting of two cultures affected, and was shaped by, a female angle of vision."—Regina Morantz-Sanchez, Signs
"Jane Hunter writes better than most novelists, and she has a topic more demanding and rewarding than the subjects many novelists deal with. Her story of the valiant and ofttimes guilt-ridden women who ventured to China, singly or with spouses, to win the country for Christ creates a world and beckons readers into it."—Christian Century

Yale University Press, 9780300046038, 342pp.
Publication Date: September 10, 1989