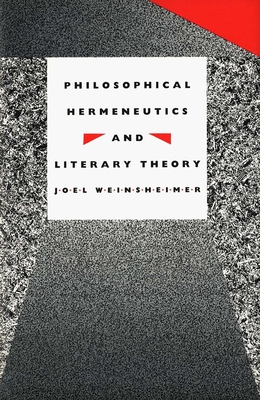 Philosophical Hermeneutics and Literary Theory (Hardcover)
Yale University Press, 9780300047851, 192pp.
Publication Date: January 23, 1991
* Individual store prices may vary.
Description
In this lucid and elegantly written book, Joel Weinsheimer discusses how the insights of Hans-Georg Gadamer alter our understanding of literary theory and interpretation.
Weinsheimer begins by surveying modern hermeneutics from Schleiermacher to Riocoeur, showing that Gadamer's work is situated in the middle of an ongoing dialogue. Gadamer's hermeneutics, says Weinsheimer, is specifically philosophical for it explores how understanding occurs at all, not how it should be regulated in order to function more rigorously or effectively. According to Weinsheimer, Gadamer views understanding as an effect of history, not an action but a passion, something that happens to the interpreter. Gadamer offers a new model of historical understanding that is based on metaphor: it fuses the different into the same but, like metaphor, does not repress difference. Similarly, Gadamer's critique of the semiotic conception of language redresses the balance between difference and sameness in the relation of word and world. The common thread in the contributions of philosophical hermeneutics to literary theory is the multifaceted tension between the one and the many, between sameness and difference. This appears in metaphor and application, in the complex dialogue between the past and present, and between the interpretation and the interpreted generally. In the final chapter of the book, "The Question of the Classic," Weinsheimer explores the implications of this analysis of Gadamer's hermeneutics for the current debate concerning the study of the canon and the classic.