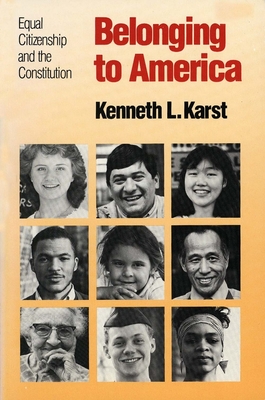 Belonging to America (Paperback)
Equal Citizenship and the Constitution
Yale University Press, 9780300050288, 340pp.
Publication Date: January 23, 1991
* Individual store prices may vary.
Description
Who are the real citizens of America? Which people truly qualify for equality under the law? Two hundred years ago, an honest answer to these questions would have excluded not only women, slaves, and Indians, but also Germans, Scotch-Irish, Catholics, and Jews. Yet the Declaration of Independence expresses a profound commitment to the ideal of equal citizenship. Throughout their history Americans have simultaneously believed in equality and accepted the subordination of groups of people—and both views have been reflected in American law.
In this lively and original book, a leading constitutional law scholar shows how American law has both reflected and defined what it means to be an American, to "belong to America." Kenneth L. Karst shows that the ideal of equal citizenship has long been a vital part of the culture of American public life, and he tells a powerful story about how the idea of equality has developed in America, providing examples from throughout American history, from Dred Scott to Brown vs. Board of Education, from affirmative action to gender discrimination, and from the treatment of American Indians to the status of Christianity. Karst explores the psychological impact of discrimination on those who have been its victims—who, in one way or another, have been told by society that they do not belong. And he argues that the principle of equal citizenship can and should guide the nation's future just as it has shaped its past.