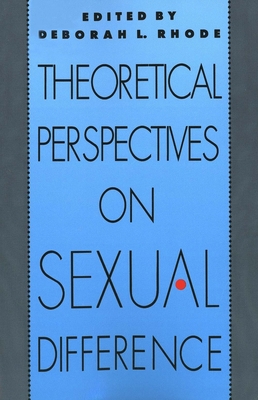 Theoretical Perspectives on Sexual Difference
Paperback

* Individual store prices may vary.
Description
No issue has been more central to the American women's movement than sexual difference. This book offers a unique study of the nature, origins, and consequences of sexual difference. Leading scholars in history, philosophy, law, literary theory, biology, sociology, psychology, political science, and anthropology explore the difference difference makes.
Several traditions of feminist response to difference are reflected in this volume. One approach has been to challenge the long-established tendency to mischaracterize culturally influenced gender differences as biological or psychological imperatives. Among the essays that draw on this tradition are Karl Degler's, John Dupré's, Ruth Hubbard's, and Herma Hill Kay's reviews of sociobiology; Nancy Chodorrow's challenges to conventional psychoanalytic frameworks; and Barrie Throne's discussion of sex stereotypes and situational influences. A second strand of feminist work has sought to challenge not the significance of gender differences but the importance society has attached to them. Alison Jaggar, Nel Noddings, Susan Moller Okin, and Koaren Offen review the capacities and constraints of this approach. A third strategy attempts to dislodge difference by challenging its centrality and its organizing premises, thus recasting the debate about gender relations. Essays by Bell Hooks and Julianne Malveaux on race, Jane Collier and Sylvia Yanagisako an anthropology, Kay Deaux and Brenda Major on social psychology, Catharine MacKinnon and Deborah Rhode on law, and Estell Freedman, Marilyn Frye, and Regenia Gagnier on feminist theory explore the ideological and policy implications of this perspective. With its wide range of distinguished scholarship, this important new volume deepens our perceptions of both the gendered nature of theory and theories about gender.
"An outstanding collection that promises to become a classic." –Cynthia Fuchs Epstein, author of Deceptive Distinctions: Sex, Gender, and the Social Order
Yale University Press, 9780300052251, 326pp.
Publication Date: January 29, 1992