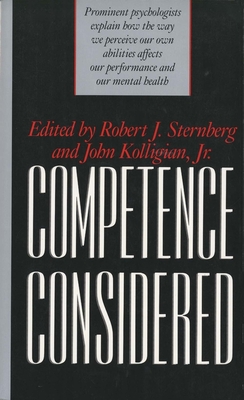 Competence Considered
Paperback

* Individual store prices may vary.
Description
In this fascinating book, a distinguished group of psychologists presents the latest research on competence and incompetence—real and perceived—from childhood through adulthood. This book brings the insights of social and personality psychology to bear on questions of intelligence; it is also distinctive in showing how the way we perceive our own abilities affects our performances and our mental health.
"Well-organized, the book moves smoothly from developmental to social to clinical perspectives. Its preface provides an excellent preview of the work to come, and the final chapter is a delightful summary and commentary, raising further questions, and suggesting alternative explanations or methods of exploration."—Charlotte Ellinwood, Readings: A Journal of Reviews and Commentary in Mental Health
"This book will be influential. . . . [The] chapters are well written and often thought provoking. . . . [Its] orientation is enriched by researchers who emerged from different schools of thought such as Sidney Blatt, David Elkin, and John Nicholls. Albert Bandura's overview alone will make this book important."—Choice
"An indispensable book for theorists and researchers in a variety of domains. It contains a magnitude of significant and interesting findings that represent a promising basis for future research."—Ulrich Schiefele, Teachers College Record
"A timely and thorough summary of recent research ina growing field of behavioral science."—William C. McGaghie, Science
Yale University Press, 9780300052282, 435pp.
Publication Date: January 29, 1992