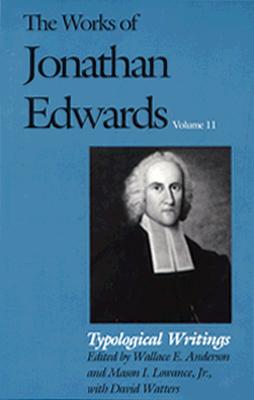 The Works of Jonathan Edwards, Vol. 11 (Hardcover)
Volume 11: Typological Writings (The Works of Jonathan Edwards Series)
Yale University Press, 9780300053524, 432pp.
Publication Date: October 13, 1993
Other Editions of This Title:
Paperback (8/25/2009)
Hardcover (6/22/1994)
Hardcover (12/28/1994)
Hardcover (9/10/1980)
Hardcover (7/11/2000)
Hardcover (4/10/2003)
Hardcover (2/17/1998)
Hardcover (9/10/1977)
Hardcover (10/2/2006)
Hardcover (10/2/2006)
Hardcover (9/10/1989)
Hardcover (12/11/2002)
Hardcover (7/11/2001)
Hardcover (12/23/1992)
Hardcover (4/20/1998)
Hardcover (9/10/1972)
Hardcover (7/11/2002)
Hardcover (9/10/1970)
Hardcover (9/10/1959)
* Individual store prices may vary.
Description
This volume presents for the first time a comprehensive, readable, and annotated text of the key typological notebooks of Jonathan Edwards: "Images of Divine Things," "Types Notebook," and Miscellany 1069, "Types of the Messiah." These three works illustrate the way the eminent eighteenth-century theologian developed his theory of typological exegesis, a theory that helped him to understand the relationship between the Old and New Testaments and to comprehend the correspondence between the natural and the spiritual worlds.

Edwards' theories of typology have long fascinated scholars from a variety of fields and have dominated literary studies of his work. These documents illuminate Edwards' epistemology and show clearly his involvement in contemporary philosophical and exegetical trends. Introductions to the documents place Edwards' typology within the context of his period, describe his typological practices, clarify some of the complex problems posed by his ambiguous use of the types throughout his career, and discuss his philosophical defenses of typologizing against the claims of materialists, deists, and rationalists.
About the Author
The late Wallace E. Anderson was associate professor of philosophy at The Ohio State University and editor of Jonathan Edwards' Scientific and Philosophical Writings, the sixth volume in The Works of Jonathan Edwards. Mason I. Lowance, Jr., is professor of English at the University of Massachusetts, Amherst. David H. Watters is professor of English at the University of New Hampshire.

or
Not Currently Available for Direct Purchase