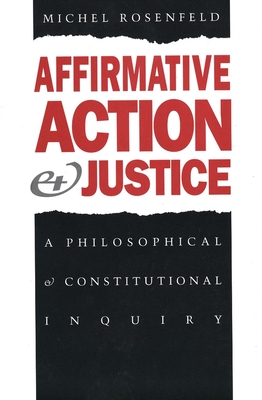 Affirmative Action and Justice
A Philosophical and Constitutional Inquiry
Paperback

* Individual store prices may vary.
Description
Affirmative action has been one of the most hotly debated issues in America. In the wake of numerous Supreme Court decisions on the subject, the ethical and constitutional controversy over affirmative action has recently intensified. The Court has neither clearly delineated the nature and scope of constitutionally permissible affirmative action plans nor articulated a coherent judicial philosophy to justify its seemingly incoherent decisions. Although philosophers and legal scholars have written extensively on affirmative action, where have been virtually no comprehensive attempts at interdisciplinary analysis. In this book Michel Rosenfeld provides such an analysis, critically examining the major existing philosophical and constitutional theories on affirmative action and elaborating a new theory that strongly defends the justice of affirmative action from the standpoint of both philosophy and constitutional law.
Rosenfeld begins by discussing the treatment of affirmative action under each of the four major philosophical conceptions of equality consistent with the tenets of liberal political philosophy: libertarian, contractarian, utilitarian, and egalitarian. He then examines systematically the Supreme Court's rulings on affirmative action in light of evolving conceptions of the constitutional right to equal protection. Finally, he presents his new theory. Drawing upon Kohlberg's principle of justice as reversibility and upon Habermas' theory of communicative ethics, Rosenfeld advocates adopting a principle that he calls "justice as reversible reciprocity" as the best means to integrate various relevant perspectives and to provide a unified philosophical and constitutional justification of affirmative action.
Yale University Press, 9780300055085, 381pp.
Publication Date: January 27, 1993