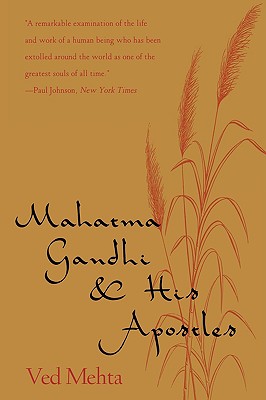 Mahatma Gandhi and His Apostles
Paperback

* Individual store prices may vary.
Description
In this book, the renowned author Ved Mehta brings Gandhi to life in all his holiness and humanness, shedding light on his principles and his purposes, his ideas and his actions. Through interviewing disciples of Gandhi in five countries, Mehta reconstructs in precise detail Gandhi's daily routine, recounts the story of his life, and presents the beliefs and practices of his "apostles." Mehta's book, widely praised when it was first published in 1977, is a biographical portrait of Gandhi unlike any other.
"A remarkable examination of the life and work of a human being who has been extolled around the world as one of the greatest souls of all time. . . . A very readable account, dotted with sharply etched portraits."—Paul Johnson, New York Times
"Meticulously researched, passionately felt, elegantly written."—Max Lerner
"Mehta's work . . . touches much more than the personality of Gandhi, for it deals with the more general issue of the evolution and maintenance of a cultural symbol. . . . Mehta has given us a sensitive view of India and a personalized experience of the meaning of Mahatma Gandhi."—Edward S. Kayes, American Historical Review
"An outstanding book . . . aglow with illuminating detail."—John Grigg, The Listener
Yale University Press, 9780300055399, 288pp.
Publication Date: April 28, 1993