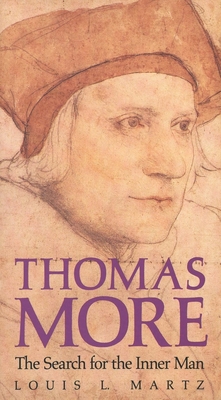 Thomas More
The Search for the Inner Man
Paperback

* Individual store prices may vary.
Description
Recent writings about Thomas More have questioned his integrity and motivation and have challenged the long-held view of him as a humane, wise, and heroic "man for all seasons." This new book responds to these revisionist studies by closely and persuasively analyzing More's writings as well as Holbein's portraits of More and his family.
"Martz cuts down the revived charge of More as a bloodthirsty hunter of heretics, a furious, sexually repressed, and frustrated man. . . . This penetrating rebuttal of the revisionists deserves high commendation."—Choice
"Martz draws a compelling picture of More's attempts during his lonely imprisonment to adjust to his human fear of death and to see his own plight in the perspective of the universal human condition. In these essays More's voice and personality speak to us from his own literate and humorous prose."—M. Edmund Hussey, Antioch Review
"In his gracefully written Thomas More: The Search for the Inner Man, Louis L. Martz provides a sharply different account of the 'dark side' of More. . . . [He] lays out the case for a more complex, ironic construction of More's texts."—Stanley Stewart, Studies in English Literature
"This . . . book is a gemstone."—Terence R. Murphy, History: Reviews of New Books
"Correcting the view of Thomas More as a cold-blooded prosecutor of heresy, Martz here considers the gentle, affectionate, yet upright man pictured in Holbein's family portraits and implicit in More's prose."—Judith Fair, Theological Studies
Yale University Press, 9780300056686, 123pp.
Publication Date: August 19, 1992