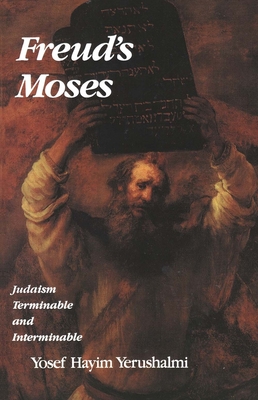 Freud's Moses
Judaism Terminable and Interminable (The Franz Rosenzweig Lecture Series)
Paperback

* Individual store prices may vary.
Other Editions of This Title:
Hardcover (8/1/1991)
Description
Moses and Monotheism, Freud's last major book and the only one specifically devoted to a Jewish theme, has proved to be one of the most controversial and enigmatic works in the Freudian canon. Among other things, Freud claims in the book that Moses was an Egyptian, that he derived the notion of monotheism from Egyptian concepts, and that after he introduced monotheism to the Jews he was killed by them. Since these historical and ethnographic assumptions have been generally rejected by biblical scholars, anthropologists, and historians of religion, the book has increasingly been approached psychoanalytically, as a psychological document of Freud's inner life—of his allegedly unresolved Oedipal complex and ambivalence over his Jewish identity.
In Freud's Moses a distinguished historian of the Jews brings a new perspective to this puzzling work. Yosef Hayim Yerushalmi argues that while attempts to psychoanalyze Freud's text may be potentially fruitful, they must be preceded by a genuine effort to understand what Freud consciously wanted to convey to his readers. Using both historical and philological analysis, Yerushalmi offers new insights into Freud's intentions in writing Moses and Monotheism. He presents the work as Freud's psychoanalytic history of the Jews, Judaism, and the Jewish psyche—his attempt, under the shadow of Nazism, to discover what has made the Jews what they are. In the process Yerushalmi's eloquent and sensitive exploration of Freud's last work provides a reappraisal of Freud's feelings toward anti-Semitism and the gentile world, his ambivalence about psychoanalysis as a "Jewish" science, his relationship to his father, and above all a new appreciation of the depth and intensity of Freud's identity as a "godless Jew."
Yale University Press, 9780300057560, 192pp.
Publication Date: July 28, 1993
or
Not Currently Available for Direct Purchase