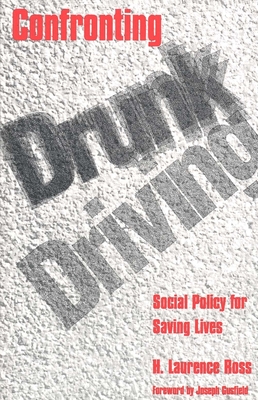 Confronting Drunk Driving (Paperback)
Social Policy for Saving Lives
Yale University Press, 9780300058659, 235pp.
Publication Date: February 23, 1994
* Individual store prices may vary.
Description
Drunk driving is most often viewed as criminal behavior that is best addressed through the justice system. However, in this new book H. Laurence Ross argues that drunk driving is more than a criminal issue. It is an inevitable consequence of American society's almost total dependence on automobile transportation and acceptance of the liberal use of alcohol as a part of leisure. Ross offers a more practical approach to the problem of drunk driving, one that combines criminal deterrence with other efforts to reduce the number of deaths caused by drivers under the influence of alcohol.
Ross first discusses the deterrence approach to controlling drunk driving, contending that well-publicized law-enforcement campaigns aimed at increasing the certainty and swiftness of punishment are more successful than highly punitive laws that the target population does not expect to be applied. Ross then shows how society can couple its legal attack on drunk driving with institutional responses. His policy agenda includes proposals to:
- reduce the consumption of alcohol by increasing liquor taxes and restricting the marketing of alcoholic beverages;
- deter automobile use in situations associated with drinking by such means as establishing curfews on driving by young people and subsidizing alternative transportation during drinking hours;
- diminish deaths currently associated with drunk driving by instituting measures that improved car and highway safety generally.