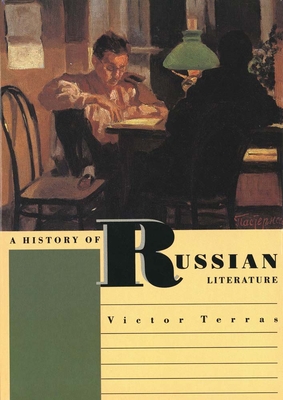 A History of Russian Literature (Paperback)
Yale University Press, 9780300059342, 668pp.
Publication Date: January 26, 1994
Other Editions of This Title:
Hardcover (1/1/1992)
* Individual store prices may vary.
Description
This magisterial work, written by one of the world's foremost Slavic scholars, presents a survey of Russian literature from its beginning in the eleventh century to modern times. Victor Terras argues eloquently that Russian literature has reflected, defined, and shaped the nation's beliefs and goals, and he sets his survey against a background of social and political developments and religious and philosophic thought.
Terras traces a rich literary heritage that encompasses Russian folklore of the eleventh, twelfth, and thirteenth centuries, medieval literature that in style and substance drew on the Byzantine tradition, and literature of the seventeenth and eighteenth centuries, when Russia passed through a succession of literary schools—neoclassicism, sentimentalism, romanticism, and realism—imported from the West. Terras then moves on to the masterful realist fiction of Turgenev, Dostoevsky, and Tolstoi during the second half of the nineteenth century, showing how it was a catalyst for the social and cultural advances following the reforms of Alexander II. In discussing the period preceding the revolution of 1917, Terras links the literary movements with parallel developments in the theater, music, and the visual arts, explaining that these all placed Russia in the forefront of European modernism. Terras divides Russian literature after the revolution into émigré and Soviet writing, and he demonstrates how the latter acted as a propaganda tool of the Communist party. He concludes his survey with the dissident movement that followed Stalin's death, arguing that the movement again made literature a leader in the struggle for freedom of thought, genuine relevance, and communion with Western culture.