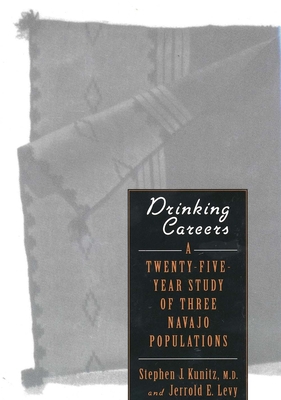 Drinking Careers
A Twenty-Five Year Study of Three Navajo Populations
Hardcover

* Individual store prices may vary.
Description
In this book, the first long-term follow-up study of alcohol use among Native Americans, a physician and sociologist and an anthropologist examine the data on three groups of Navajos whom they first interviewed about their use of alcohol in 1966. The authors find verification for their initial hypothesis that young men who would have been classed as alcoholic often stop or moderate their drinking as they age. They also find that there is considerable diversity in patterns of alcohol use among both women and men.

Stephen J. Kunitz and Jerrold E. Levy study the histories of those who have died as well as those who have survived since the first study was done. They show that, compared to those who have survived, the former were more likely to have been solitary drinkers and were on average younger at the time when they were first interviewed. The authors also present data for the entire Navajo population on changing mortality from alcohol-related causes from the 1960s to the present; they compare alcohol-related death rates among Navajos to those among rural Anglos in Arizona and New Mexico; they analyze two family histories—one of a family with severe alcohol problems, the other of a family with none—that illustrate how traditional patterns of wealth have shaped the way people have learned to use alcohol; they study the factors that may have led to the emergence of a solitary, unrestrained drinking style among some Navajos; and they describe the changes in treatment programs and the transformation of traditional healing systems as they are integrated into a bureaucratized health care system.

Yale University Press, 9780300060003, 288pp.
Publication Date: November 30, 1994