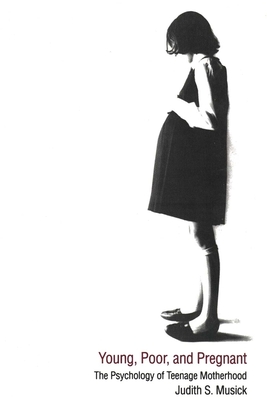 Young, Poor, and Pregnant
The Psychology of Teenage Motherhood
Paperback

* Individual store prices may vary.
Description
"I like it when people notice I'm having a baby. It gives me a good feeling inside and makes me feel important."—a teenage mother

Teenage mothers are often poor young girls who define themselves through motherhood and who see getting pregnant as less frightening than finishing school or getting a job. In this book an expert on adolescent pregnancy discusses how psychological pressures of adolescence interact with the problems of being poor to create a situation in which early sexuality, pregnancy, and childbearing—often repeated childbearing—seem almost inevitable. Drawing on her experience as founding director of one of the nation's largest and most successful programs for teenage mothers, Judith Musick sheds new light on what is required to significantly improve the life chances of teenage mothers and their children.

Frequently quoting from the diaries of teenage mothers themselves, Musick looks at the family and community problems that accompany poverty and shows how they influence the psychological development of young girls, examines the sexual socialization (and exploitation) of disadvantaged females, and analyzes the role played by mother-daughter relationships. She describes how adolescents feel about and raise their children. Musick concludes by recommending strategies for intervention programs that will help promote the developmental, psychological, and environmental conditions necessary for teenage mothers to change their lives.
Praise For Young, Poor, and Pregnant: The Psychology of Teenage Motherhood…
"At last, a bright light on the heretofore hidden dimension of teenage pregnancy. Judith Musick not only illuminates the internal psychological components of teenage pregnancy and parenting, but brilliantly shows how they interact with external factors like poverty, deprivation, and violence to frustrate those preventive and ameliorative efforts that do not take them into account."—Lisbeth B. Schorr, Director, Harvard University Project on Effective Services and coauthor with Daniel Schorr of Within Our Reach: Breaking the Cycle of Disadvantage and Despair

"A significant contribution to the field of adolescent sexuality and parenting that will be read by researchers, program planners, and teachers."—Lorraine Klerman, m.d., Yale University

Yale University Press, 9780300061956, 286pp.
Publication Date: February 22, 1995
About the Author
Judith S. Musick, a developmental psychologist, is vice chairman of the Ounce of Prevention Fund, a public-private initiative for disadvantaged youth and their families that has been in existence since 1981.