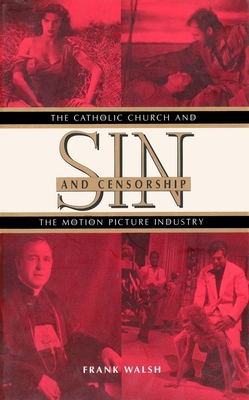 Sin and Censorship
The Catholic Church and the Motion Picture Industry
Hardcover

* Individual store prices may vary.
Description
During World War I, the Catholic church blocked the distribution of government-sponsored V.D. prevention films, initiating an era of attempts by the church to censor the movie industry. This book is an entertaining and engrossing account of those efforts—how they evolved, what effect they had on the movie industry, and why they were eventually abandoned.

Frank Walsh tells how the church's influence in Hollywood grew through the 1920s and reached its peak in the 1930s, when the film industry allowed Catholics to dictate the Production Code, which became the industry's self-censorship system, and the Legion of Decency was established by the church to blacklist any films it considered offensive. With the industry's Joe Breen, a Catholic layman, cutting movie scenes during production and the Legion of Decency threatening to ban movies after release, the Catholic church played a major role in determining what Americans saw and didn't see on the screen during Hollywood's Golden Age.

Walsh provides fascinating details about the church's efforts to guard against anything it felt might corrupt moviegoers' morals: forcing Gypsy Rose Lee to change her screen name; investigating Frank Sinatra's fitness to play a priest in Miracle of the Bells; altering a dance sequence in Oklahoma; eliminating marital infidelity from Two-Faced Woman; compelling Howard Hughes to make 147 cuts in The Outlaw; blocking the distribution of Birth of a Baby; and attacking Asphalt Jungle for serving the "crooked purposes of the Soviet Union." However, notes Walsh, there were serious divisions within the church over film policy. Bishops feuded with one another over how best to deal with movie moguls, priests differed over whether attending a condemned film constituted a serious sin, and Legion of Decency reviewers disagreed over film evaluations. Walsh shows how the decline of the studio system, the rise of a new generation of better-educated Catholics, and changing social values gradually eroded the Legion's power, forcing the church eventually to terminate its efforts to control the type of film that Hollywood turned out. In an epilogue he relates this history of censorship to current efforts by Christian fundamentalists to end "sex, violence, filth, and profanity" in the media.

Yale University Press, 9780300063738, 424pp.
Publication Date: March 27, 1996