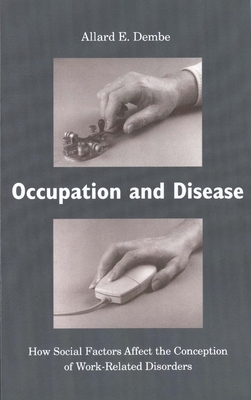 Occupation and Disease
How Social Factors Affect the Conception of Work-Related Disorders
Hardcover

* Individual store prices may vary.
Description
How and why do physicians come to regard certain medical disorders as work-related? Is this process merely a matter of gathering and interpreting empirical evidence or is it a complex social phenomenon? In this fascinating book, Allard Dembe studies the histories of three ailments now commonly considered to be work-related—cumulative trauma disorders (especially carpal tunnel syndrome), occupational back pain, and noise-induced hearing loss—and demonstrates that numerous social factors affect whether the medical community recognizes an illness as job-related.

According to Dembe, physicians may be influenced by such social factors as: the advent of new technologies (computers replacing typewriters, for example); passage of laws establishing workers' compensation; union campaigns and labor activism; public outcry against environmental hazards; cultural stereotyping (some complaints of hearing loss, for example, have been linked to "nervous tendencies" of women); medical specialization and competition (diagnosis of back pain as a traumatic injury corresponded with the growth of orthopedics after World War I); and media attention. Dembe contends that physicians have been forced to act as society's "gatekeepers"—referees in controversies having significant implications for labor relations and the industrial economy. He maintains that physicians should instead be free to concentrate on the health of patients and suggests alternative methods for conferring appropriate medical benefits and ensuring protection against occupational hazards.

Yale University Press, 9780300064360, 358pp.
Publication Date: June 26, 1996