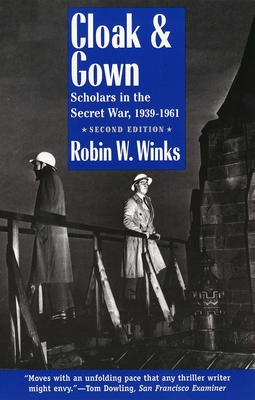 Cloak and Gown
Scholars in the Secret War, 1939-1961, Second Edition
Paperback

* Individual store prices may vary.
Description
The CIA and its World War II predecessor, the Office of Strategic Services (OSS), were for many years largely populated by members of Ivy League colleges, particularly Yale. In this highly acclaimed book, Robin Winks explores the underlying bonds between the university and the intelligence communities, introducing a fascinating cast of characters that include safe-crackers and experts in Azerbaijani as well as such social luminaries as Paul Mellon, David Bruce, John P. Marquand, Jr., and William Vanderbilt. This edition of the book includes a new preface by Winks.
Reviews of the first edition:
"One of the best studies of intelligence in recent years."—Edward Jay Epstein, Los Angeles Times Book Review
"The most original book yet written on the interpenetration of counter-intelligence and campus."—Andrew Sinclair, Sunday Times (London)
"Winks writes a lively compound of analysis and anecdote to illuminate the bonds between academe and the intelligence community. His book is a towering achievement."—Robert W. Smith, Chicago Sun-Times
"Among the more important contributions to the history of Anglo-American espionage to appear this or any other year. . . . Moves with an unfolding pace that any thriller writer might envy."—Tom Dowling, San Francisco Examiner
"A brilliant book."—Sallie Pisani, Journal of American History
Yale University Press, 9780300065244, 626pp.
Publication Date: March 27, 1996