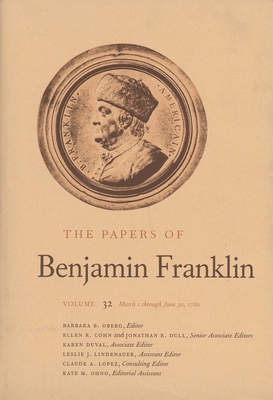 The Papers of Benjamin Franklin, Vol. 32 (Hardcover)
Volume 32: March 1 through June 30, 1780
Yale University Press, 9780300066173, 744pp.
Publication Date: December 25, 1996
Other Editions of This Title:
Hardcover (9/10/1963)
Hardcover (12/11/2001)
Hardcover (12/15/2006)
Hardcover (12/11/1998)
Hardcover (11/23/1988)
Hardcover (12/29/1993)
Hardcover (9/10/1969)
Hardcover (9/10/1970)
Hardcover (9/10/1963)
Hardcover (9/10/1968)
Hardcover (9/10/1962)
Hardcover (9/10/1961)
Hardcover (9/10/1961)
Hardcover (9/10/1960)
Hardcover (9/10/1972)
Hardcover (9/10/1987)
Hardcover (9/10/1974)
Hardcover (12/26/1990)
Hardcover (9/10/1976)
* Individual store prices may vary.
Description
During the spring of 1780, Benjamin Franklin was midway through an eight-and-a-half-year mission to France. He was in good health, energetic, and occupied with a variety of important ministerial tasks and private pursuits. In this volume, the fifth in the sequence dealing with Franklin's tenure as sole minister to the French court, and tenth of a projected twenty volumes covering his years in France, Franklin focuses on diplomatic activities and takes on the role of expressing to France America's pressing needs in this time of economic instability and military stalemate.

Demonstrating wide-ranging talents and activities, Franklin's correspondence is singular in scope and interest. Working purposefully to surmount one difficulty after another, Franklin sought a general prisoner exchange, assisted escaped prisoners, drafted passports, honored bills that were presented to him for payment, and remained involved in the effort to assemble and ship uniforms, arms, and gunpowder to America. During these months he also bought an entire type foundry, purchased two presses, conferred about a script type he had commissioned, received shipments of paper and type from England in spite of the war, designed a method to determine the conductivity of metals, submitted to the Académie des sciences a lengthy memoir on lightning rods for the Strasbourg Cathedral, and penned a jocular essay on 'inflammable air' in response to a Royal Academy of Brussels mathematical prize question that he regarded as frivolous.

Publication of this volume was assisted by a grant from the National Historical Publications and Records Commission.


or
Not Currently Available for Direct Purchase