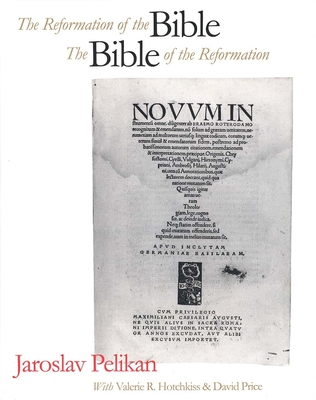 The Reformation of the Bible/The Bible of the Reformation (Hardcover)
Yale University Press, 9780300066678, 214pp.
Publication Date: March 27, 1996
* Individual store prices may vary.
Description
It is equally true that the Reformation was inspired and defined by the Bible and that the Bible was reshaped by the intellectual, political, and cultural forces of the Reformation. In this book, a distinguished scholar—whose contributions to the field of religious studies have won him wide renown—explores this relationship, examining both the role of the Bible in the Reformation and the effect of the Reformation on the text of the Bible, Biblical studies, preaching and exegesis, and European culture in general.

Jaroslav Pelikan begins by discussing the philological foundations of the "reformation" of the Biblical text, focusing on the revival of Greek and Hebrew language study and the important contributions to textual criticism by humanist scholars. He then examines the changing patterns of interpretation and communication of the Biblical text, the proliferation of vernacular versions of scripture and their impact on various national cultures, and the impact of the Reformation Bible on art, music, and literature of the period. The book is richly illustrated with examples of early printed editions of Bibles, commentaries, sermons, vernacular translations, and other works with Biblical themes, all of which are identified and discussed.

The book serves as the catalog for a major exhibition of early Bibles and Reformation texts that has been organized at Bridwell Library, Perkins School of Theology, Southern Methodist University, and will also be shown at the Yale Center for British Art, the Houghton Library and the Widener Library at Harvard University, and the Rare Book and Manuscript Library at Columbia University.

About the Author
Jaroslav Pelikan is Sterling Professor of History at Yale University. He is the author of, among other books, Christianity and Classical Culture, The Idea of the University--A Reexamination, The Vindication of Tradition, and Jesus Through the Centuries, all published by Yale University Press. He has received honorary degrees from universities all over the world, as well as medals and awards from many scholarly societies and institutions, including the Jefferson Award of the National Endowment for the Humanities, the highest honor conferred by the U.S. government on a scholar in the humanities. He is currently president of the American Academy of Arts and Sciences.

Valerie R. Hotchkiss is J.S. Bridwell Endowed Librarian and associate professor of medieval studies at Southern Methodist University. She is the author of Clothes Make the Man: Female Cross-Dressing in Medieval Europe.

David Price is associate professor of Germanic languages at the University of Texas at Austin and the author of Janus Secundus: Writing Love in the Renaissance, The Political Dramaturgy of Nicodemus Frischlin, and other studies of Renaissance poetry and art.