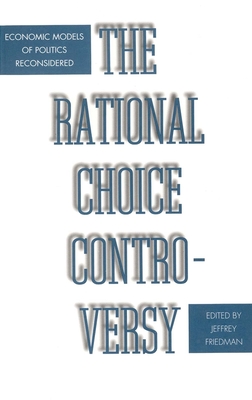 The Rational Choice Controversy (Paperback)
Economic Models of Politics Reconsidered
Yale University Press, 9780300068214, 320pp.
Publication Date: September 25, 1996
* Individual store prices may vary.
Description
Pathologies of Rational Choice Theory, a book written by Donald Green and Ian Shapiro and published in 1994, excited much controversy among political scientists and promoted a dialogue among them that was printed in a double issue of the journal Critical Review in 1995. This new book reproduces thirteen essays from the journal written by senior scholars in the field, along with an introduction by the editor of the journal, Jeffrey Friedman, and a rejoinder to the essays by Green and Shapiro. The scholars--who include John Ferejohn, Morris P. Fiorina, Stanley Kelley, Jr., Robert E. Lane, Peter C. Ordeshook, Norman Schofield, and Kenneth A. Shepsle--criticize, agree with, or build on the issues raised by Green and Shapiros critique. Together the essays provide an interesting and accessible way of focusing on competing approaches to the study of politics and the social sciences.
About the Author
Jeffrey Friedman is in the department of political science at Yale University and is editor of Critical Review.
or
Not Currently Available for Direct Purchase