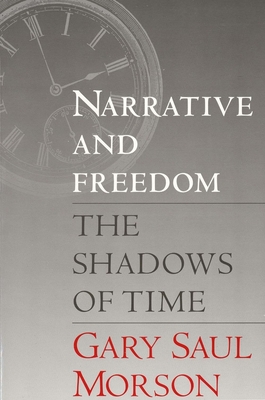 Narrative and Freedom
The Shadows of Time
Paperback

* Individual store prices may vary.
Description
In this important and controversial book, one of our leading literary theorists presents a major philosophical statement about the meaning of literature and the shape of literary texts. Drawing on works by the Russian writers Dostoevsky, Tolstoy, and Chekhov, by other writers as diverse as Sophocles, Cervantes, and George Eliot, by thinkers as varied as William James, Mikhail Bakhtin, and Stephen Jay Gould, and from philosophy, the Bible, television, and much more, Gary Saul Morson examines the relation of time to narrative form and to an ethical dimension of the literary experience.

Morson asserts that the way we think about the world and narrate events is often in contradiction to the truly eventful and open nature of daily life. Literature, history, and the sciences frequently present experience as if contingency, chance, and the possibility of diverse futures were all illusory. As a result, people draw conclusions or accept ideologies without sufficiently examining their consequences or alternatives. However, says Morson, there is another way to read and construct texts. He explains that most narratives are developed through foreshadowing and "backshadowing" (foreshadowing ascribed after the fact), which tend to reduce the multiplicity of possibilities in each moment. But other literary works try to convey temporal openness through a device he calls "sideshadowing." Sideshadowing suggests that to understand an event is to grasp what else might have happened. Time is not a line but a shifting set of fields of possibility. Morson argues that this view of time and narrative encourages intellectual pluralism, helps to liberate us from the false certainties of dogmatism, creates a healthy skepticism of present orthodoxies, and makes us aware that there are moral choices available to us.
Yale University Press, 9780300068757, 348pp.
Publication Date: September 10, 1996