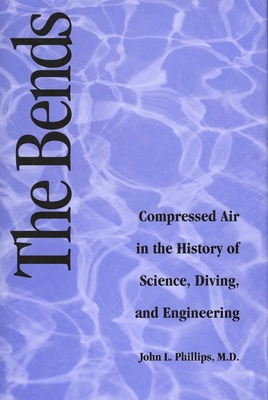 The Bends
Compressed Air in the History of Science, Diving, and Engineering
Hardcover

* Individual store prices may vary.
Description
With the invention of compressed air in the 1840s, human divers could enter previously inaccessible deep water environments and engineers could design underwater mines and monumental bridges that had never been possible before. But a painful, sometimes fatal illness—decompression sickness, or the bends—mysteriously afflicted many of those who used compressed air. This book is a wide-ranging history of the wonders compressed air brought about and the suffering its unknown hazards inflicted. John L. Phillips explores the intertwining roles of science, technology, engineering, medicine, and politics in the invention of compressed air, the recognition and identification of decompression sickness, and the hundred-year-long process of learning to understand and treat the bends.

The book begins with an overview of the biology and chemistry of respiration and a discussion of the steam engine that could generate compressed air. Drawing on previously unpublished letters, diaries, and notes, Phillips tells the story of early uses of compressed air, first observations of decompression sickness, growing awareness of the bends during construction of the Brooklyn Bridge, and efforts to understand the pathophysiology of the illness. He then considers employee health and safety issues, the science of diving today, and human limits to exploring the ocean deeps. In the history of compressed air and its illnesses, Phillips finds important lessons for dealing with other diseases yet to be confronted in the modern world.


Yale University Press, 9780300071252, 272pp.
Publication Date: May 25, 1998
About the Author
John L. Phillips, M.D., is a fellow in urologic oncology at the National Cancer Institute, NIH.