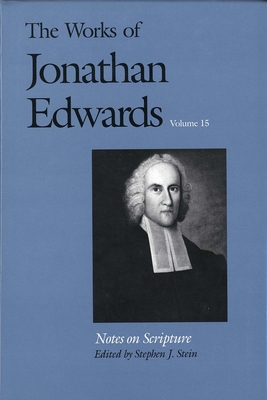 The Works of Jonathan Edwards, Vol. 15
Volume 15: Notes on Scripture (The Works of Jonathan Edwards Series)
Hardcover

* Individual store prices may vary.
Other Editions of This Title:
Hardcover (10/2/2006)
Hardcover (12/28/1994)
Hardcover (12/11/2002)
Hardcover (4/10/2003)
Hardcover (10/2/2006)
Hardcover (9/10/1972)
Hardcover (10/13/1993)
Hardcover (9/10/1989)
Hardcover (6/22/1994)
Hardcover (9/10/1984)
Hardcover (9/10/1980)
Hardcover (9/10/1977)
Hardcover (12/23/1992)
Hardcover (4/20/1998)
Hardcover (9/10/1959)
Hardcover (7/11/2001)
Paperback (8/25/2009)
Hardcover (7/11/2002)
Hardcover (7/11/2000)
Description
This is the first complete edition of the private biblical notebook that Jonathan Edwards compiled over a period of nearly thirty-five years. Edwards' "Notes on Scripture" confirms the centrality of the Bible in his thought and provides more balance to earlier depictions of his writings that emphasized the scientific and philosophical while overlooking the biblical dimension. In this critical edition the entries appear in the order in which Edwards wrote them, beginning with a short commentary on Genesis 2:10-14 that he penned in 1724, and ending with his last entry, Number 507 on the Book of Solomon's Song, written two years before his death.

This volume provides direct access to one of America's most influential religious thinkers. Edwards' entries range across the entire scriptural canon and reveal his creativity in the interpretation of particular biblical texts and his fascination with typology. The notebook also documents Edwards' engagement with the intellectual currents of his day, in particular his response to the challenge associated with the Enlightenment critique of biblical revelation. Stephen J. Stein's introduction situates Edwards as an exegete in the larger tradition of biblical commentary and in the intellectual world of eighteenth-century Western thought.


Yale University Press, 9780300071986, 674pp.
Publication Date: February 17, 1998
About the Author
Stephen J. Stein is Chancellors' Professor of Religious Studies and chair of the Department of Religious Studies at Indiana University. He is the author of The Shaker Experience in America and editor of Edwards' Apocalyptic Writings, both published by Yale University Press.


or
Not Currently Available for Direct Purchase