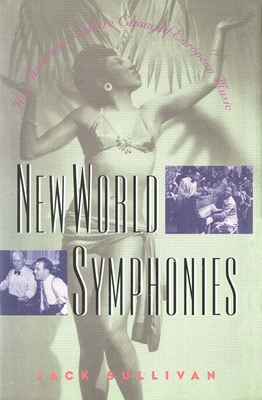 New World Symphonies
How American Culture Changed European Music
Hardcover

* Individual store prices may vary.
Description
This groundbreaking book shows for the first time the profound and transformative influence of American literature, music, and mythology on European music. Although the impact of the European tradition on American composers is widely acknowledged, Jack Sullivan demonstrates that an even more powerful musical current has flowed from the New World to the Old. The spread of rock and roll around the world, the author contends, is only the latest chapter in a cross-cultural story that began in the nineteenth century with Gottschalk in Paris and Dvorák in New York.
Sullivan brings popular and canonical culture into his wide-ranging discussion. He explores the effects on European music of American authors as diverse as Twain, DuBois, Melville, and Langston Hughes, examining in particular Dvorák's fascination with Longfellow, the obsession of Debussy and Ravel with Poe, and the inspiration Whitman provided for Holst, Vaughan Williams, and dozens more. Sullivan uncovers the African American musical influence on Europe, beginning with spirituals and culminating in the impact of jazz on Stravinsky, Bartók, Walton, and others. He analyzes the lure of Hollywood and Broadway for such composers as Weill, Korngold, and Britten and considers the power of the American landscape—from the remoteness of the prairie to the brutal energy of the American city. In European music, Sullivan finds, American culture and mythology continue to resonate.
Yale University Press, 9780300072310, 282pp.
Publication Date: March 11, 1999