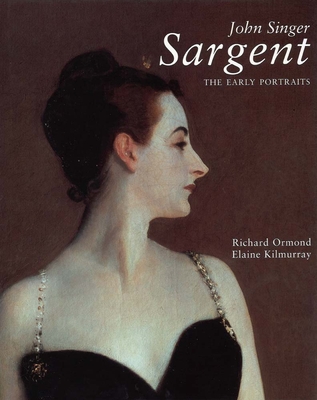 John Singer Sargent (Hardcover)
The Early Portraits; The Complete Paintings: Volume I (The Paul Mellon Centre for Studies in British Art)
Paul Mellon Centre BA, 9780300072457, 304pp.
Publication Date: April 20, 1998
Other Editions of This Title:
Hardcover (10/8/2019)
Hardcover (1/10/2017)
Hardcover (10/23/2006)
Hardcover (10/7/2014)
Hardcover (10/11/2002)
Hardcover (12/11/2003)
Hardcover (11/18/2010)
* Individual store prices may vary.
Description
This magnificent book is the first volume of the definitive catalogue raisonné of the works in oil, watercolor, and pastel of the beloved painter John Singer Sargent. This volume catalogues portraits by Sargent from 1874, when he began his training in Paris, and covers pictures painted while he was establishing his reputation in Paris, during his early years in England, and on his first professional visit to America in 1887. Volume two will record portraits painted from 1890 until the end of the artist's career. The entire catalogue raisonné will bring together nearly 600 portraits, some 1,600 subject pictures and landscapes, and three mural cycles.

The early portraits in this book range from private images of Sargent's family and friends to studies of writers and fellow artists and formal portraits of Parisian celebrities and patrons in France, England, and America. These include his most controversial work, Madame Gautreau, and studies of some of the major artistic figures of the day: Claude Monet, Robert Louis Stevenson, and Ellen Terry in her role as Lady Macbeth.

Each work is catalogued in depth, with a biographical account of the sitter, a discussion of the contemporary context of the painting, and a detailed provenance, exhibition history, and bibliography. Almost all of the paintings are shown, mostly in color, including some that have never been reproduced before. The fruit of some sixteen years of research, this valuable reference provides a broad and comprehensive view of Sargent's art.

Published for the Paul Mellon Centre for Studies in British Art
About the Author
Richard Ormond is Director of the National Maritime Museum in Greenwich, England. Elaine Kilmurray has published a number of articles on Sargent.

Praise For John Singer Sargent: The Early Portraits; The Complete Paintings: Volume I (The Paul Mellon Centre for Studies in British Art)…
"This is the first volume in a complete-works catalog that will include oil paintings, watercolors and pastels by the 19th Century American expatriate. . . . It encompasses a number of his most famous paintings, reproducing them beautifully in color and providing a number of luscious closeups of his virtuoso brushwork. The superb introductory essay sets his work against artistic theories of the period, and detailed entries on the paintings provide even biographical accounts of the sitters. A book that amply justifies its sixteen years of labor—and not only to specialists."—Alan G. Artner, Chicago Tribune

"This second volume of Ormond and Kilmurray's comprehensively researched catalogue raisonné of Sargent's work in oil, watercolor, and pastel provides the most extensive provenance, publication, and exhibition histories to date for nearly 150 extant and untraced or destroyed portraits and portrait studies from the decade during which the artist reached the pinnacle of his career. . . . [An] impressive package, [and] an invaluable research tool for scholars. Essential. Upper-division undergraduates through faculty and researchers."—Choice
"This magnificent, erudite compilation demonstrates fittingly that Sargent was the outstanding society portraitist of his age. . . . It is a volume that should be in every library."—Byron Ireland, Day by Day
"This superb monument of art scholarship finally does justice to the greatest portrait painter of modern times."—New York Sun
"The Early Portraits is a lavishly illustrated, handsome publication, fully embodying the high standard for art books, particularly those on painting, we have come to expect from Yale University Press. . . . This is fine, evocative writing, which goes far to suggest why Sargent's early portraits merit our close attention. The Early Portraits thoroughlyestablishes the factual record of their creation and has immediately become a standard reference in their continuing appreciation."—Mary Crawford Volk, New England Quarterly
or
Not Currently Available for Direct Purchase