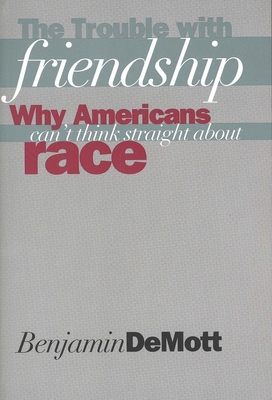 The Trouble with Friendship (Paperback)
Why Americans Can`t Think Straight About Race
Yale University Press, 9780300073942, 224pp.
Publication Date: March 30, 1998
* Individual store prices may vary.
Description
In this lively book, a well-known social critic draws on evidence from movies, TV, literature, and advertising to argue that many Americans have been lulled by the media into believing that racial problems can be substantially mitigated, even vanquished, by blacks and whites working together, one on one, to reconcile their differences. Benjamin DeMott believes that this position of "friendship orthodoxy" oversimplifies the causes of racism and allows us to ignore the harsh socioeconomic realities faced by many blacks in this country.
"A fresh, witty and pertinent essay on race in America. . . . DeMott advances his simple yet subtle argument in graceful, nuanced writing."—Edward T. Chase, Nation
"DeMott draws carefully and intelligently from the well of cultural evidence and delivers the boldest contribution to America's ongoing racial dialogue to come along in years."—Quinn Eli, Philadelphia Inquirer
"A refreshingly original assessment of the state of black-white relationships in the United States."—George M. Fredrickson, New York Review of Books
"DeMott argues his case persuasively in this important book, a clarion call to those still willing to consider the lessons of history before TV and advertising erase them completely."—Kirkus Reviews
"Critical reading for anyone interested in the intersections of culture, race, and policy."—Kristal Brent Zook, LA Weekly
"A uniquely fine book . . . on race relations in America. . . . A powerfully crafted call for a revolution in the way we see ourselves."—Courtland Milloy, Quarterly Black Review of Books