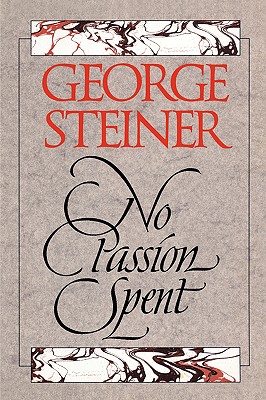 No Passion Spent
Essays 1978-1995
Paperback

* Individual store prices may vary.
Description
George Steiner is one of the preeminent essayists and literary thinkers of our era. In this remarkable book he concerns himself with language and the relation of language to literature and to religion. Written during a period when the art of reading and the status of a text have been threatened by literary movements that question their validity and by computer technology, Steiner's essays affirm the primacy of reading in the classical sense.

Steiner covers a wide range of subjects, from the Hebrew Bible, Homer, and Shakespeare to Kafka, Kierkegaard, Simone Weil, Husserl, and Freud. The theme of Judaism's tragic destiny winds through his thinking, in particular as he muses about whether Jewish scripture and the Talmud are the Jew's true homeland, the parallels between the "last supper" of Socrates and the Last Supper of Jesus, and the necessity for Christians to hold themselves accountable for their invective and impotence during the Holocaust.

Yale University Press, 9780300074406, 448pp.
Publication Date: March 30, 1998