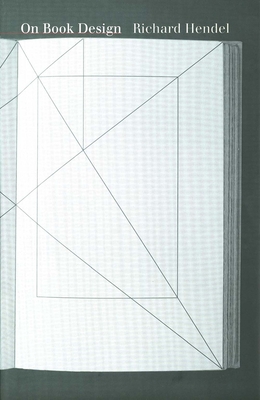 On Book Design
Hardcover

* Individual store prices may vary.
Description
How is a book designed? What do book designers think about as they turn manuscripts into printed books? In this unique and appealing volume, the award-winning book designer Richard Hendel and eight other talented book designers discuss their approaches and working methods. They consider the problems posed by a wide range of projects—selection of a book's size and shape, choice of typeface for text and display, arrangement of type on the page, and determination of typographic details for all parts of the book within manufacturing and budget limitations.

As omnipresent as books are, few readers are aware of the "invisible" craft of book designing. The task a book designer faces is different from that faced by other designers. The challenge, says Hendel, isn't to create something different or pretty or clever but to discover how to best serve the author's words. Hendel does not espouse a single philosophy of design or offer a set of instructions; he shows that there are many ways to design a book. In detailed descriptions of the creative process, Hendel and the eight other designers, who represent extensive experience in trade and scholarly publishing in the United States and Great Britain, show how they achieve the most effective visual presentation of words, offering many examples to illustrate their choices. Written not only for seasoned and novice book designers, this book will fascinate others in publishing as well as all readers and authors who are curious to know how books end up looking the way they do.



Yale University Press, 9780300075700, 224pp.
Publication Date: November 10, 1998
About the Author
Richard Hendel is associate director and design and production manager at the University of North Carolina Press, Chapel Hill.


or
Not Currently Available for Direct Purchase