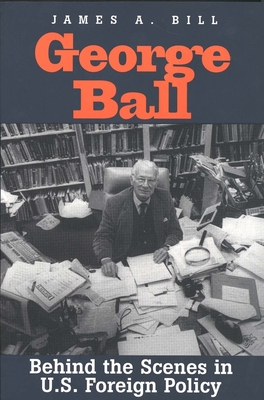 George Ball
Behind the Scenes in U.S. Foreign Policy
Paperback

* Individual store prices may vary.
Description
Diplomat and "wise man" George Ball wielded enormous influence in American foreign policy for more than forty years. Best known for his dissent from U.S. Vietnam policy when he was under secretary of state during the Kennedy and Johnson administrations, he also helped those administrations formulate policy concerning the European Community, the Congo, the Cuban missile crisis, and Cyprus. His last formal appointment was in 1968 as U.S. Ambassador to the United Nations, but he continued to advise and unofficially assist presidents and members of the American political elite for another twenty-five years, often taking contrary and critical positions on the major issues of the day. In this book James Bill offers fascinating new insights into the inner workings of foreign policy by examining Ball's career and the political problems with which he grappled.

Drawing on Ball's personal archive as well as extensive interviews with Ball and with dozens of his associates, Bill traces Ball's involvement with foreign policy. He begins in the 1940s, when Ball was a close associate of Jean Monnet, chief architect of the European Community, and ends with Ball's death in 1994. He also chronicles Ball's forty-year involvement as a founding member of the Bilderberg group, an international clique of powerful European and American leaders. The book stresses a seldom-recognized dimension of the U.S. foreign policymaking process: the importance of the second tier of officialdom, the level just below that of cabinet secretary. And it provides a thoughtful comparison of the realpolitik model of statesmanship practiced by Henry Kissinger and the phronesis practiced by Ball, who was a prudent statesman guided by practical wisdom within a moral framework.

Yale University Press, 9780300076462, 302pp.
Publication Date: August 11, 1998